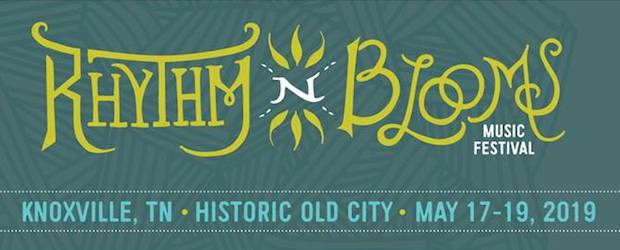 Tyler Childers, Tank and the Bangas, Dawes, Lukas Nelson & Promise of the Real, and The Black Lillies top a stellar 2019 Rhythm N' Blooms Music Festival lineup, which also includes performers like Langhorne Slim, The Suffers, Sarah Shook and the Disarmers, Frances Cone, The Foxies, Katie Pruitt, and more. Though the event's headliners had been teased out late last year, the long-running Knoxville festival expanded to unveil its full lineup this week, with a particularly strong mix of regional and national acts in the undercard and mid-tier slots (and, of course, some Nashville favorites in addition to East Tennessee based acts).
The annual event, which takes place in Knoxville's historic Old City and is co-produced by  Dogwood Arts and Attack Monkey Productions, returns for its 10th year May 17-19, and, while still niche compared to some of the more nationally-focused mega fests around the south, drew an impressive 10,000 attendees last year, making for an exciting and competitive boutique alternative to the everything-for-everyone approach of larger events, instead opting for a more roots-geared, expertly curated focus.
Being a smaller fest also means it carries a smaller price tag, with single-day tickets currently priced at a modest $30 for any of the event's three days, and weekend passes starting at $60, with VIP options as well, all available right here. Relive last year's fest with a recap video, then check out Rhythm N' Blooms' full 2019 lineup below!
More from Rhythm N' Blooms | Site | Facebook | Twitter | Instagram
Tyler Childers
Tank and the Bangas
Dawes
Lukas Nelson & Promise of the Real
The Black Lillies
My Brightest Diamond
Langhorne Slim
The Suffers
Sarah Shook and the Disarmers
Gangstagrass
Frances Cone
Cereus Bright
Teen Spirit
Nora Jane Struthers
Cicada Rhythm
Cutthroat Shamrock
Rainbow Girls
Sean McConnell
Scott Mulvahill
Holler Jake
Andy Wood
Three Star Revival
Cellogram
The Foxies
Katie Pruitt
The Good Guy Collective
Peak Physique
Temp Job
Sloppy Jane
Benji
Gamenight
Jubal
Daje Morris
Handsome and the Humbles
Brian Paddock and the American Gentlemen
Joey English
Stonefish
Adeem the Artist