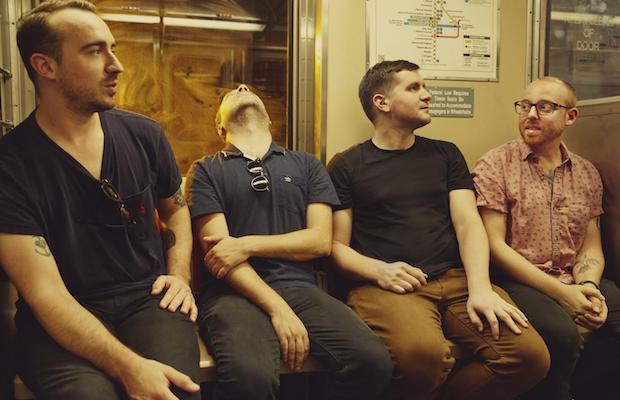 Heralded as one of the best punk bands of the past decade, Philadelphia's The Menzingers have been fueled by both underground cred and critical acclaim since their breakout 2012 third LP On the Impossible Past, and with their latest and fifth album, last year's After the Party, the group continue to flex the emotional, angsty, powerful, heartland fueled punk that sets them apart. A powerful and dynamic live force, the band return almost exactly a year after headlining show in Music City, once again to play The Basement East tonight, Oct. 28. Tickets are still available here, and with midwestern emo faves Tiny Moving Parts and breakout local grunge pop trio Daddy Issues (who are properly on this tour, not just local support) rounding out the lineup, it's without a doubt one of the weekend's most promising picks, especially if you're looking for a show that's not explicitly Halloween themed. Read on for more about the lineup!
THE MENZINGERS
Formed in 2006 in Scranton, Penn. and now based in Philadelphia, The Menzingers have managed the difficult feat of both maintaining punk cred and an underground audience while also earning ubiquitous, widespread critical acclaim from major tastemaking outlets, many of which rarely give scrappy, earnest punk bands a second glance. Formed in the ashes of their teenage projects Bob and the Sagets and Kos Mos, The Menzingers' early years were met with strong initial buzz throughout the punk blogosphere, and they soon found themselves on the road with acts like Anti-Flag and Against Me! The true turning point, however, came in 2012, when, after inking a deal with Epitaph Records, they released their third full-length On the Impossible Past, which managed to amass unprecedented critical attention and propel them beyond the punk world, earning a spot on countless best of lists and bringing expected crossover cred to the largely still underground act.
Able to expertly walk the lines of punk and pop punk, raw and polished, emotional and angry, and personal yet wielding a mass appeal, The Menzingers are one of the most organic, well-respected bands in the new underground punk movement, and channel an air of importance on a broader cultural context truly worth experiencing, punk fan or not. With 2014's Rented World, they further flexed their love of heartland rock and everyman romanticism, hinting at personal growth without abandoning their punk roots. Last year's Will Yip produced fifth LP After the Party continues what almost feels like a three LP arc, reflecting a bit more on getting older and edging towards 30, without resigning to become a grownup just yet. With its dynamic instrumentation, raw emotional power, anthemic harmonies, and driving melodies, the group's latest is surely primed to please any longtime fan, and is also a great jumping off point for newcomers. Whether you're familiar or not, the best way to experience The Menzingers is live, so don't miss your chance to do so tonight!
TINY MOVING PARTS
Hailing from the midwest, Tiny Moving Parts take direct and welcome influence from that region's emo heritage, crafting a noodle-y, dynamic, and rhythmically driven sound which leans heavily on its emotional core, allowing lyrics and themes to drive their relatable compositions. Their latest release, this year's Swell, comes after a decade of steady buzz, a fairly prolific clip of records, and persistent scene cred (along with some crossover buzz), and now that the novelty of the "emo revival" bubble has worn off, TMP can simply be appreciated for the excellent band they are. Though no strangers to Music City (this year alone, they've played a headlining outing at The End and supported The Wonder Years at Cannery Ballroom), TMP are consistently a stellar live act and celebrated fixture of the scene, who, now than a decade in, have consistently proven to be enduring and worth a close eye. They're an exciting addition to this lineup, so be sure to show up in team for their set!
DADDY ISSUES
Locals Daddy Issues actually got their start as a parody Twitter account before taking up instruments and deciding to make a go at becoming a proper band (a refreshing anthesis to the over-trained, uber-techincal typical Nashville trajectory). A pair of early singles, "Pizza Girl" and "Ugly When I Cry," helped garner immediate attention in 2014, paving the way for the gals' 2015 debut mini album, Can We Still Hang, released through tastmaking local label Infinity Cat. With a self-described sound that "lies somewhere between witchy grunge and surf glam," the trio's lyrical prowess, a mix of empowerment and lighthearted, sarcastic self-awareness, provides a surprisingly poignant juxtaposition to their raw instrumentation, and has helped the group quickly find themselves on the road, on festival bills, and the subject of national press. With last year's full-length debut, Deep Dream, Daddy Issues made a huge sonic leap, crafting their most cohesive, mature, and emotionally nuanced material to date, helping them transcend their grungy, garage band beginnings to become a buzzworthy fixture with national attention, a trajectory we expect to propel them even further into the public eye with whatever they cook up next.
The Menzingers, Tiny Moving Parts, and Daddy Issues will perform tonight, Oct. 28 at The Basement East. The show is 18+, begins at 8 p.m. (doors at 7 p.m.), and tickets are available for $21.