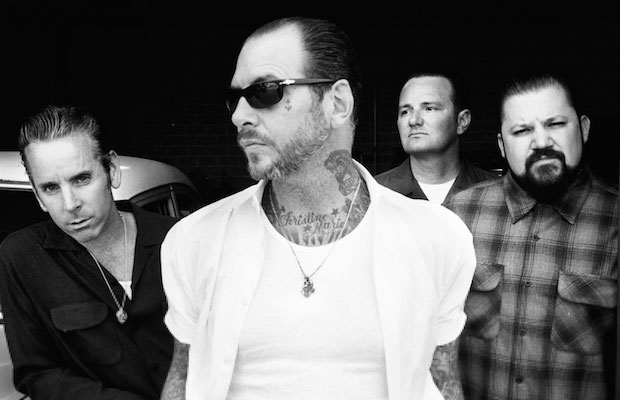 Though their breakthrough wouldn't come until the early '90s, famed SoCal punk group Social Distortion first formed exactly 40 years ago (feel old?? we do), with frontman Mike Ness, then still a teenager, remaining the only constant throughout the decades. After adapting the punk sound of the late '70s and emerging California pop punk of the '80s, Social D started incorporating more country and rockabilly elements into their unique style by their 1990 breakthrough eponymous third LP, catapulting the group's career to new heights, and helping bring their new sound to the masses several years before the punk scene really had its second explosion. Throughout the '90s, the band dropped a couple more classics, Somewhere Between Heaven and Hell, and notably White Light, White Heat, White Trash, and while this and last decade only saw one LP apiece (set to change with a forthcoming effort next year, following 2011's Hard Times and Nursery Rhymes), Social Distortion have remained a popular and enduring touring act.
Returning to Nashville for the first time in a few years, the band are set to headline Marathon Music Works tonight, Oct. 21, along with outspoken Americana troubadour (and Nashville local) Will Hoge and Georgia singer-songwriter Pony Bradshaw. It seems fitting, now, that Social Distortion are touring with rootsier acts, as edgy, punk spirit and progressiveness are much more common in the country and Americana sphere these days, but back in the day, when Social D were infusing punk with heartland rock, blues, country flair, it felt like a bridge between two distant worlds. Fans of punk, cowpunk, rockabilly, or simply just damn good music are sure to find something to love on this lineup, so grab tickets while they last and preview all of the performers below!
Social Distortion, Will Hoge, and Pony Bradshaw will perform tonight, Oct. 21 at Marathon Music Works. The show is all ages, begins at 8 p.m. (doors at 6:30 p.m.), and tickets are available for $40.
More from Social Distortion | Site | Facebook | Twitter | Instagram