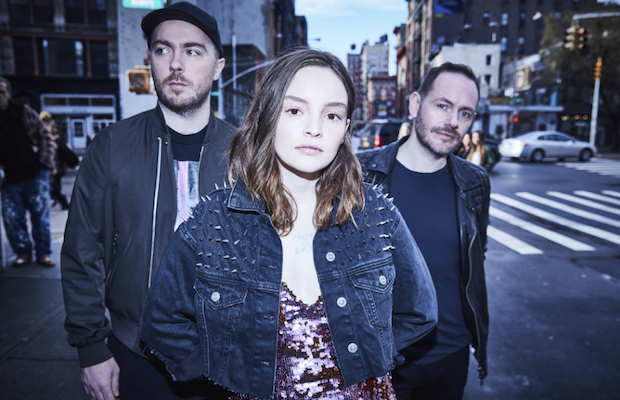 Out in support of their personal, adventurous recent third album Love Is Dead, Scottish synthpop trio CHVRCHES are set to return to Nashville for the first time in three years (and for only the third time ever), for their biggest local headliner yet, at the perfectly suited Ryman Auditorium tonight, Oct. 15, with buzzy LA indie pop up and comers Lo Moon. Prior shows at Exit/In and Marathon Music Works have been phenomenal, as have CHVRCHES' regional festival appearances, but with a sound so lush and nuanced, especially their latest work, the Mother Church feels like the ultimate place to see the band's incredible live show. This one's been on sale for a minute, but a handful of tickets are still available right here, and we urge you not to miss out! Read on for more about the show.
CHVRCHES
Scottish synthpop trio CHVRCHES sprung to worldwide acclaim after the release of their 2013 debut, The Bones of What You Believe, and have continued to enchant and captivate with their subsequent efforts, 2015's Every Open Eye, and this year's latest, most adventurous and honed effort yet, Love Is Dead. Formed in 2011, the group are made up of synth players/producers/multi-instrumentalists Iain Cook and Martin Doherty, friends and active members of the Scottish music scene for many years, and vocalist/occasional synth player Lauren Mayberry, who performed in various bands before studying law and journalism, ultimately spending time as a writer before forming CHVRCHES. Fiercely self-sufficient, the band have written, recorded, and produced the bulk of their own material (bringing in outside producers for the first time on their latest), building buzz after a self-released series of early singles, ultimately landing them on Glassnote Records by their debut EP, Recover, and subsequent full-lengths. Embraced by the blogosphere ahead of their debut, CHVRCHES' textured, synth-laden, and pop accessible sound has helped them find endless mainstream appeal, earning hits on alternative radio, scoring film and TV placements, appearing on several light night shows, and becoming fixtures of the festival circuit, beloved by electronic and pop fans alike. Their live show is honed and engaging, and has only gotten bigger and better since the band's breakthrough success, and for their third and biggest Nashville show to date, we can't think of a more magical spot to see them than The Ryman!
LO MOON
Relatively new to the scene, Los Angeles indie pop trio Lo Moon just released their debut full-length earlier this year, but already feel perfectly primed to open up this show. Finding buzz soon after forming in 2016 for Chris Walla produced early single "Loveless," the band continued to attract attention as they released more singles and ramped up live activity last year, appearing at Governor's Ball and Lollapalooza, and touring with the likes of Glass Animals and Phoenix. With their lush, layered, synth drenched, and etherial indie pop sound, and the sweeping vocals of frontman Matt Lowell, Lo Moon are more heady than and distinct from CHVRCHES, but should definitely still resonate with the same fans. Show up early and see what all the buzz is about!
CHVRCHES and Lo Moon will perform tonight, Oct. 15 at The Ryman Auditorium. The show is all ages, begins at 7:30 p.m., and tickets are available to purchase for $36-46.