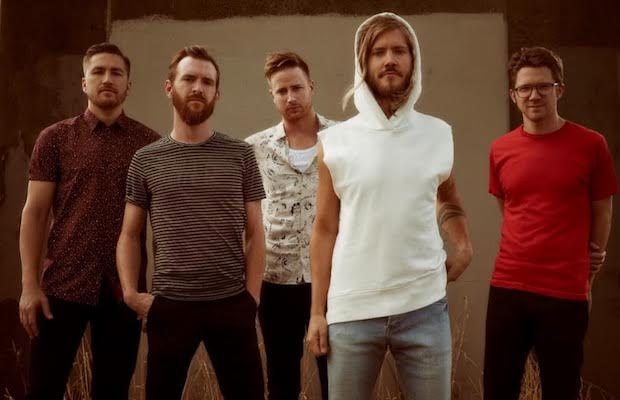 A longtime site favorite, organic local success story, and one of the most prominent rock bands to break out of Nashville in the last decade, alt/indie rockers Moon Taxi are set to continue a long-running tradition on a newly-epic scale, with their 10th New Year's Eve show in Nashville (after venturing last year to Atlanta) and first-ever headlining arena show, Dec. 31 at Municipal Auditorium. Epic in its own right, local party rockers LUTHI and the beloved Sparkle City Disco DJs are joining as well, to make sure you get both a stellar rock show and dance party to ring in the new year. Tickets are available here, and despite the size of the venue, they're already going fast! We're thrilled to announce that we're also giving away a pair of tickets to one lucky fan, so if you want to lock in your New Year's Eve plans early, read on for more about the show and enter for a chance to win below.
MOON TAXI
One of Nashville's definitive rock and roll success stories of the past few years,  Moon Taxi began just over a decade ago, while several members were students at Belmont. Quickly finding a regional audience following the 2007 release of their debut, Melodica, the group's early days were characterized by a compelling and polished live show, and an affinity for jam-inspired rock with progressive tendencies. A 2008 live album would follow, and gave way to further touring, early festival appearances, headlining spots at local clubs, and increased Nashville prominence through slots at events like Live on the Green and high-profile supporting appearances.
The group's sophomore release, Cabaret, arrived in 2012, and really set the wheels in motion for the whirlwind of success they've since experienced. Finding a poppier balance, doubling down on their songwriting (after often being praised more for their live show), and incorporating electronics, Moon Taxi quickly found a larger critical and commercial audience, going, in a matter of months, from local events like East Nashville Underground, to prominent spots at national fests (including a 2012 debut at Bonnaroo), appearances on late night television (Letterman, Conan, Seth Meyers), commercial placements, and nonstop touring. 2013's Mountains Beaches Cities followed a sonically similar approach to proggy, poppy, alternative rock, paving the way for their  2015's Daybreaker, an even more broadly accessible work.
And most recently, earlier this year, Moon Taxi dropped fifth effort Let the Record Play, their most pop primed, confident, anthemic, and polished record yet, and a perfect representation of the energy and excitement of their live show, doubling down a honed-in focus on tight, dynamic songwriting. With lead single "Two High," the band scored their biggest bona fide hit, and they returned to Bonnaroo this summer for a stunning main stage appearance, following local outings in recent years at huge spots like The Ryman and War Memorial Auditorium. Municipal, though, marks Moon Taxi's biggest Nashville headliner yet, and for a 10th year of celebrating New Year's Eve in Nashville, it couldn't be more fitting or well-deserved. There will be a lot of great options to ring in the new year, but it's hard to imagine a better one for a huge, local, communal, rock and roll experience.
LUTHI
Building a strong local following one show and dance party at a time, genre bending collective LUTHI (fronted by prolific local artist Christian Luthi) have been a site favorite and staple of the local scene since the release of their stellar EP, Home Again, back in 2016. Their frenetic indie pop rock sounds have been in heavy rotation with us for several years now, and recent debut, Stranger, is essential listening. Drawing from influences that include soul and r&b acts from the 1960s, psychedelic funk and groove from the '70s, and new wave rock and roll from the '80s, LUTHI have described themselves as "Cumberland funk" and a "Boogie Circus," and no matter your personal taste, their infectious, wide ranging sound is sure to hook you one way or another.
SPARKLE CITY DISCO
Since first hitting the scene six years ago, Sparkle City Disco have become Nashville's premiere vinyl disco DJs and curators of epic disco parties. With current monthly residences at Bar 308 and Woolworth On 5th, an annual Sparkle City River Dance party, pop ups throughout the city and region, and more, Jonas Stein and David Bermudez (along with frequent special guests) are Music City's go-to DJs for a wild dance party, and with them on the bill, this show is sure to be even more epic.
_
ENTER TO WIN TICKETS
Enter to win tickets by filling out the form below. If you experience any trouble with the contest widget, or have any questions, feel free to email us at [email protected].
Winner will be announced Monday, Oct. 22 at 6 p.m. CDT, and will receive one pair of tickets. Good luck!
[contesthopper contest="94902″]
_
Moon Taxi, LUTHI, and Sparkle City Disco will perform Monday, Dec. 31 at Nashville Municipal Auditorium. The show is all ages, begins at 9 p.m., and tickets are available to purchase for $31.50-56.50.