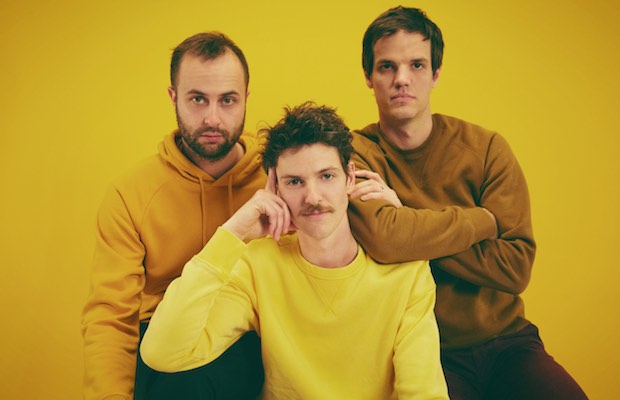 Celebrating a new album, a shifted lineup, and their most radical sonic departure to date (good luck pegging them an Americana band with anything on their latest LP), Indiana's Houndmouth are set to return to town for the first time in a couple of years to headline Mercy Lounge [note: previously scheduled for Marathon Music Works; previously purchased tickets will be honored] on Oct. 10, along with poppy, LA indie folk group Family of the Year. We've dug everything Houndmouth has done since their earliest days, but with new record Golden Age, an experimental, indie effort more akin to acts like Tame Impala, we're more intrigued than ever by where the band, now a trio, have ventured. There's never been a cooler time to see them live, and you can still grab tickets to do so right here! Or, if you'd rather leave it up to chance, we're also giving away a pair of tickets to one lucky fan! Read on for more about the show, and enter for a chance to win below.
HOUNDMOUTH
Hailing from the Louisville adjacent New Albany, Indiana, folk and country infused indie rock outfit Houndmouth quickly grew from regional to national buzz, shortly after first forming in 2011. Thanks to the strength of a self-released debut EP and an early SXSW showcase, the band nabbed a record deal ahead of their debut full-length, From the Hills Below the City, and, upon its release, were met with critical acclaim, nabbing high-profile tours and festival spots, television appearances, and commercial accolades. Though rooted in elements of Americana, the group have never considered themselves an Americana band, and with each release have managed to further eschew that label, teaming up with famed Nashville producer Dave Cobb for 2015 followup Little Neon Limelight, a more focused and well-honed effort that helped further boost their presence and produced Houndmouth's biggest single to date, "Sedona." The three years since have seen the band continue to embark on big tours and navigate the festival circuit, however the 2016 departure of keyboard player and vocalist Katie Toupin seems to have further pushed Houndmouth in a new direction, adding several backing players to their live lineup, and crafting their most socially adventurous LP to date with this year's Golden Age. With production from Foxygen's Jonathan Rado and esteemed producer Shawn Everett, the album takes an experimental, conceptual, uninhibited sonic leap, conjuring a stylish, layered style more akin to groups like Tame Impala and MGMT than anyone in the Americana sphere. We've been fans of Houndmouth for years, but with this reinvention, it feels like a particularly cool time to see them live!
FAMILY OF THE YEAR
Los Angeles based Family of the Year formed nearly a decade ago, though brothers Joseph and Sebastian Keefe first cut their teeth performing around the northeast for a number of years prior before relocating out west. Thanks to early attention from the likes of Ben Folds and CMJ, the band were already building a following by their 2009 debut LP Songbook, finding widespread, breakout attention with 2012 followup Loma Vista, and their most recognizable single to date, "Hero" (featured prominently in the film Boyhood, among a variety of other places). Adopting a poppy, folky, indie sound, lush with harmonies and pleasant, layered instrumentation, Family of the Year have long walked the line between the Americana world and the indie rock scene, performing with a diverse array of acts like fun., Mumford & Sons, Walk the Moon, and Grouplove. Though certainly no strangers to Nashville, having stopped off in Music City on many occasions while touring regularly the past several years, with a great new LP, Goodbye Sunshine, Hello Nighttime, in tow, you definitely don't want to be late to their opening set!
_
ENTER TO WIN TICKETS
Enter to win tickets by filling out the form below. If you experience any trouble with the contest widget, or have any questions, feel free to email us at [email protected].
Winner will be announced Monday, Oct. 8 at 12 p.m. CDT, and will receive one pair of tickets. Good luck!
[contesthopper contest="94841″]
_
Houndmouth and Family of the Year will perform Wednesday, Oct. 10 at Mercy Lounge (moved from Marathon Music Works). The show is all ages, begins at 8 p.m. (doors at 6:30 p.m.), and tickets are available to purchase for $30-33.