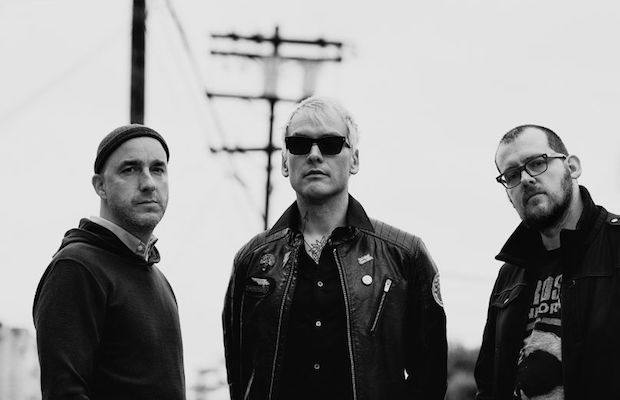 One of the most beloved and iconic groups in modern punk, Chicago's Alkaline Trio formed over two decades ago, finding swift success in the underground scene thanks to a pair of phenomenal and fan-favorite early albums and relentless touring, before breaking through to broader mainstream recognition with 2001's From Here to Infirmary and Good Mourning, which hit just as early '00s pop punk and emo began to dominate the musical landscape. More akin to '90s greates like Jawbreaker and early Green Day, with a dash of Misfits bite and macabre, however, Alkaline Trio always remained sharper, moodier, and darker than many of their peers, continuing to evolve and crank out great and relevant releases over the last 15 years they've remained in the public eye.
The band last played Nashville in 2013, the same year they released their last LP, but they've hardly been slacking off in the interim. Aside from juggling various solo, side projects, and supergroups, singer Matt Skiba notably joined Blink-182 as a full-time replacement for Tom Delonge in 2015, delaying the process to Alkaline Trio's forthcoming ninth full-length, the dark, earnest, and particularly focused Is This Thing Cursed?, due out Aug. 31. In support, the group are back on the road once more, and will finally return to Nashville tonight, Aug. 24 to headline Marathon Music Works. New punk project Ogikubo Station, comprised of seminal indie label Asian Man Records head Mike Park and Mixtapes' Maura Weaver, as well as LA indie/garage punks together PANGEA are set to open, and tickets are still available while they last! For punk fans, this is a must-see show.
Alkaline Trio, Ogikubo Station, and together PANGEA will perform tonight, Aug. 24 at Marathon Music Works. The show is all ages, begins at 8 p.m. (doors at 6:30 p.m.), and tickets are available to purchase for $30.
Beginning at 5:30 p.m., between bands, and again following the conclusion of the show, Nashville Is The Reason will be spinning tunes and offering drink specials at adjacent bar William Collier's (where NITR first began). You can access the bar both from outside and from within the venue, and admission is free and 21+, but you will need a ticket to get into the venue. Details here.