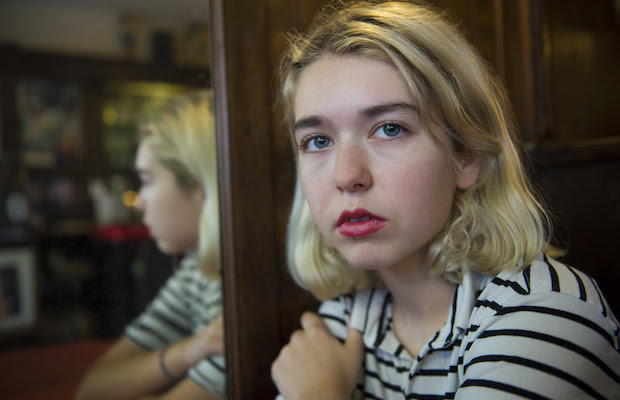 The solo vehicle of 19 year old Baltimore based indie rocker Lindsey Jordan, Snail Mail absolutely blew us away with her 2016 debut EP, Habit. The earnest, lo-fi, folk-informed effort is a personal, raw emotional masterpiece of an album, and firmly established Jordan as an artist to keep an eye on before she was even out of high school. Now signed to Matador, Snail Mail just dropped her even better full-length debut, Lush, on June 8, and ahead of its release, has already toured with the likes of Girlpool, Waxahatchee, Beach Fossils, and Japanese Breakfast.
Needless to say, this young talent is gifted beyond her years, and alongside kindred spirits like Julien Baker, Lucy Dacus, Soccer Mommy, Liza Anne, and Jay Som, is helping firmly establish a new wave of lo-fi, intimate, substantive indie rock that feels more personal and relevant than just about anything else in the rock sphere today.
A few months back, Snail Mail announced a July 8 return to Nashville for his biggest solo show yet, originally planned for The High Watt, but since upgraded to Mercy Lounge, especially impressive when you consider it's her first Music City club show, after previously making stops at more DIY-geared spaces. Lush is, without a doubt, one of 2018's absolute best records, and Snail Mail is primed to continue to grow as an essential, influential, and timeless musical fixture- grab tickets now to see her at the start of an exciting career.
An interesting, but well-matched choice to support, Detroit's Bonny Doon, celebrating their new LP Longwave, play indie rock with punk and country flair, reflective of Snail Mail's own earnest, fluid genre conformity. And kicking things off, local grunge pop group Reality Something, who recently dropped their debut full-length Life Noise have long been a site favorite, and are always a treat to catch in person- be sure to show up early!
Snail Mail, Bonny Doon, and Reality Something will perform tonight, July 8 at Mercy Lounge. The show is 18+, begins at 8 p.m. (doors at 7 p.m.), and tickets are available to purchase for $14.
More from Snail Mail | Site | Facebook | Twitter | Instagram