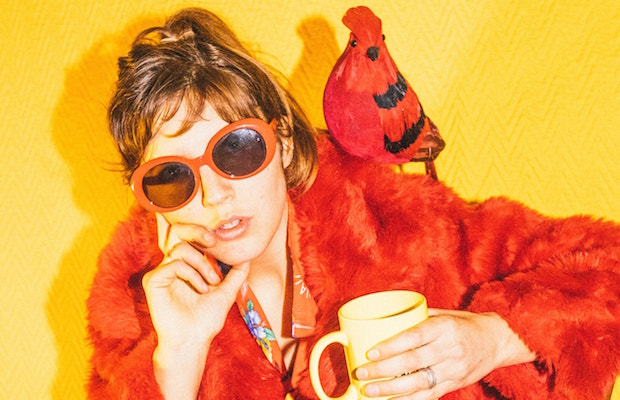 Few musical reinventions have been as stunning or as gratifyingly well-executed as Caroline Rose's turn from alt-Americana up and comer to full-fledged synth-punk-pop-feminist rock badass with her stellar new sophomore effort LONER. Quirky, darkly funny, self-assured, and unique, Caroline Rose has never seemed more in tune with her own artistic self-expression, and when she returns to town March 27 for a performance at The High Watt, it'll be for the first time since she shed her old digs. Featuring support from likeminded Los Angeles riot pop duo WASI (another change from the rootsier acts Rose used to share the stage with), plus local folky singer-songwriter Nightingale (more akin to Rose's prior sound), tickets to what is sure to be one of the spring's best shows are available right here. Additionally, we're giving away a pair of tickets to one lucky fan, so read on for more about the lineup and enter for a chance to win below!
CAROLINE ROSE
When Caroline Rose first came onto our radar, with the release of her 2014 debut LP I Will Not Be Afraid, we counted her as a promising, albeit fairly conventional, alt-country and Americana rocker. With her brand new sophomore LP, last month's LONER, Rose bucks everything she previously established, and reinvents herself as a sarcastic, ambitious, self-assured, quirky, and genre-defying rocker, exploring pop and punk and synth rock and indie with a personal, darkly funny, raw, and unique flair. Though, from the outside, her new direction seems like a total metamorphosis, Caroline maintains that it's merely an organic and necessary reflection of growth and live changes of the past few years, something that had been bubbling up for ages, and finally manifested as music that better expresses her personality. A multi-instrumentalist and multimedia talent, Rose not only used her latest record as a means of musical exploration, but also as a way to flex her production chops (she co-produced it all with Paul Butler) and studio experimentation, as well explore honing her visual style, video approach, and more. A rising talent who, as a twenty-something, has already proven her ability and willingness to take drastic and gratifying risks with her art, Caroline has delivered one of the year's absolute best albums, and her appearance at The High Watt is your first chance to see her new direction in person in Nashville.
WASI
Like Caroline Rose, LA duo WASI fuse punk influence, feminist and LGBTQ ideals, and a fondness for synth pop accessibility, landing with a "riot pop" sound primed to get you dancing. SoCal staples for a number of years, with their fiercely DIY ethos and genre-bending style, they're perfectly primed to get this party started (and bring plenty of substance, packing political and social earnestness beneath their lighthearted musical exterior), so be sure to show up early!
NIGHTINGAIL
A veteran of our Acme showcase series, Nightingail is the live alias of Memphis transplant Alicia Gail. With a blues informed indie folk sound, a hypnotic voice, and the ability to craft earnest, story-driven, and poetic lyrics, Gail's style lands a bit closer to Caroline Rose's earlier work, which, for the longtime fans, gives a nice rounded range to this lineup, and a compelling reason to be punctual.
_
ENTER TO WIN TICKETS
Enter to win tickets by filling out the form below. Must be 18+ to attend. If you experience any trouble with the contest widget, or have any questions, feel free to email us at [email protected].
Winner will be announced Thursday, March 22 at 5 p.m. CDT, and will receive one pair of tickets. Good luck!
[contesthopper contest="91530″]
_
Caroline Rose, WASI, and Nightingail will perform Tuesday, March 27 at The High Watt. The show is 18+, begins at 8 p.m. (doors at 7 p.m.), and tickets are available to purchase for $10-12.