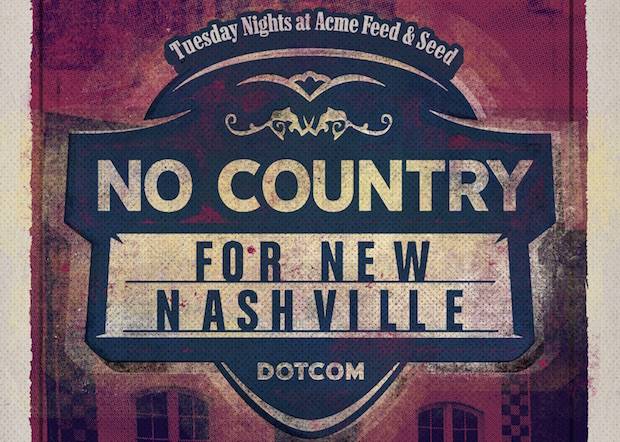 Our long-running showcase series at Acme Feed & Seed is finishing the year strong, bringing you three Tennessee bands that all pack a wallop. Best part of all, it's 100% free as always. Our last event of 2017 will take place Tuesday, Dec. 12 and will feature garage psych rock performers Microwave Mountain, Americana rockers The Sedonas, and post punks Telefones. Things kick off at 7 p.m., so don't be late, and read on after the break for a full preview.
MICROWAVE MOUNTAIN
Birthed in the mind of Salt Lake City native Jamie Timm, Microwave Mountain started from very humble DIY beginnings. After playing in various touring bands, Jamie moved to Nashville and self recorded all of his 2015 debut under the MM moniker. Entitled Shades Up, he used just a tw0 track loop pedal and two past their prime guitar amps to record the music. With some guitars, a bass, one microphone, a room in Nashville, and a burning desire to make the music he wanted hear, he has created some incredible psychedelic inspired, lo-fi garage rock that has us paying close attention. The last year or so, the "studio" project has begun to blossom into much, much more. Mr. Timm began recruiting others to help him perform his material live and show by show, and word of mouth, their reputation has grown to the point that we couldn't wait to host at our final showcase of 2017! With ample time to have begun work on new material, as well as perfecting the live performance aspects of the available tunes, we have a strong feeling Microwave Mountain are poised to blow up big in the ever expanding Nashville underground rock scene, and we hope this show helps to make that happen. Be sightly ahead of the curve, and catch them for free! 
THE SEDONAS
Hailing from just few hours away in Knoxville, TN, four person collective The Sedonas are pure Americana rock at its finest. In the vain of the late, great Tom Petty and his stellar backing band The HeartBreakers, but with a little bit more pop punch, we are thrilled to welcome them to our Acme showcase. With a super high energy show, led by frontman and primary songwriter Connor Wike, The Sedonas have built a strong name for themselves around Rocky Top, and are ready to bring the vibes to the rest of the Volunteer state, and beyond! Even cooler news? They'll be releasing their debut full length, American Paint, the same day as our Acme showcase! So enjoy them live for free.99, and if you like what hear (we think you will), cop their debut LP as well!
TELEFONES
Dabbling in the realms of experimental, psychedelic, post punk, shoegaze and surf rock, Telefones touch on many of the elements we truly love about the indie rock scene in Music City. Formed originally in Atlanta as a partnership between singer/guitarist Wes Salton and bassist Jason Chiarella, we couldn't be happier they decided to move to Nashville and expanded their roster. They dropped their debut EP, Rock Your Noodle, on Halloween 2016 and have been bending ears around town and generating buzz ever since. With a follow up EP expected in 2018, it looks like yet another promising young band is ready to melt skulls for no cover at our kickass 2017 finale. Be on time and get the most awesome possible this Tuesday!
Microwave Mountain, The Sedonas, and Telefones will perform Tuesday, Dec. 12 at Acme Feed & Seed. The show is 21+, begins at 7 p.m., and, per usual, it's totally FREE!