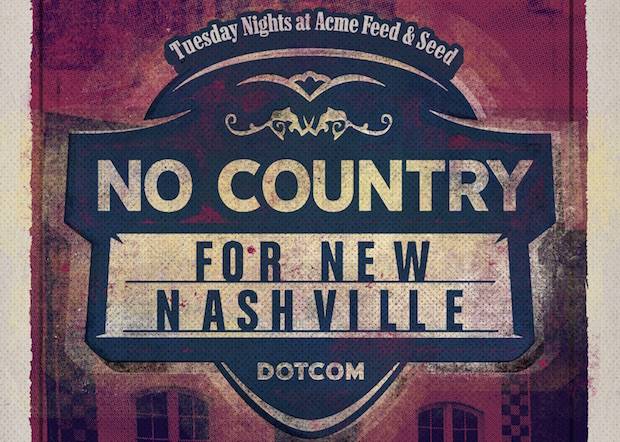 Our long-running showcase series at Acme Feed & Seed is still going strong into the holidays, and we've brought back our three band format, so get ready to be wowed by three hours worth of free live music! Our next, packed out gig will take place Tuesday, Nov. 28 and the all-local bill will feature Americana collective My Politic, bluesy folk and soul outfit Anthony Adams & The Nite Owls, and indie folk rocker Joel Levi. Things kick off at 7 p.m., so don't be late, and read on after the break for a full preview.
MY POLITIC
A relatively fresh faced presence in the ever expanding new Nashville sound- meaning the next generation of country fried Americana and folk (see Jason Isbell, Margo Price, or Sturgill Simpson)- six person ensemble My Politic just released their stellar debut studio record this past summer. Entitled 12 Kinds Of Lost, the LP shows a nice progression, in comparison to barebones and basic home recordings they'd previous released. Considering themselves more a community than a band, their house, which is paid homage to in the albums artwork, has become a musician's collective of sorts. Dubbed the Mad Valley Lodge, the homestead would be where all the tracks for the record were laid. A masterful debut, full of real human emotion laid bare lyrically over heartfelt arrangements, we highly recommend you give it several listens before catching them for free, live, and in person at Acme. Take advantage now, because based on the massive amounts of superstar talent and potential present on their record, tickets prices will only be increasing from here on out. Have a listen below, and we'll see you Tuesday.
ANTHONY ADAMS & THE NITE OWLS
With an authenticity that bleeds through in every note, next wave Americana, blues, alt folk performer Anthony Adams, and his stellar cast of local talents, The Nite Owls, are a resident collective you should probably get in your life immediately, if you haven't already. With a soulful voice that resinates in one's bones, Anthony turned a lot of heads with his 2014 eponymous debut, full of his signature sound. Elements of Ray LaMontagne, mixed with Nebraska era Springsteen, and just a hint of brass and strings, Mr. Adams has a knack for not being pinned down into one neat little genre, and we wouldn't have it any other way. We look forward to hearing what he's been working on since the LP's release, and we're happy to report there's a lot of new material set for release early next year, followed by touring the midwest and possibly beyond. Stay tuned for more on all that as details crystallize, but, for now, all you need to know is their putting it down Tuesday at Acme, and you can jump on the band wagon free of charge, so don't miss them!
Joel Levi
Originally Hailing from Anderson, IN, Joel Levi started building a name for himself in Music City since he moved here several years ago. He and his band recorded their first effort, The Little Places, with help from local Grammy award-winning producer and songwriter Charlie Peacock. He followed that up with Rangeline, a Dave-Mathews-Band-styled Americana rock effort that showed range. Now Joel is back with Thirty, his latest EP that dropped earlier this month. Featuring more fully fleshed out alt folk, new Nashville sound inspired Americana songs. Mr. Levi shows listeners tremendous growth in a career that has already established itself nicely with the local scene. See what we're gushing about for yourself Tuesday at Acme, but be on time, so you don't miss a second of his opening set.
My Politic, Anthony Adams & The Nite Owls, and Joel Levi will perform Tuesday, Nov. 28 at Acme Feed & Seed. The show is 21+, begins at 7 p.m., and, per usual, it's totally FREE!