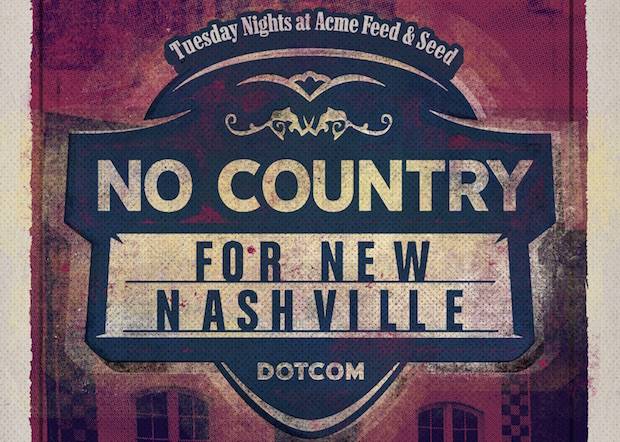 Our long-running showcase series at Acme Feed & Seed is still going strong into the fall, and the next show will be held back in the familiar confines of the Acme's first floor, after a few very special rooftop outings. We're bringing you our three band format once again, so get ready to be wowed by three hours worth of free live music! Our next, all local gig will take place Tuesday, Nov. 14 and the bill will feature folk performer Nightingail, soul singer Ross Livermore, and lounge rocker Lonely Benson. Things kick off at 7 p.m., so don't be late, and read on after the break for a full preview.
NIGHTINGAIL
Naturally blessed with the flavor of Memphis blues since birth, indie folk singer-songwriter Nightingail now calls Music City home, and we're all the richer for it. Her debut self-titled EP got some heads turning, as she layered her narrative style song writing, over stoic twelve bar arrangements, blending in her uniquely polished voice in perfectly. She is the type of musician you don't just hear but feel, like all great true blue performers. She dropped her sophomore effort, Magnetic Sound Live EP, earlier this year. The three track jaunt highlights her sure to be epic live performance, made fuller with another guitar, bass and drums. Again, listeners are treated to her one of kind sound, striking a deeper chord than the average drivel clogging the airwaves these days. There really isn't anyone else out their quite like her, and we are definitely looking forward to seeing her in person for the first time. So be there, and catch her for free while you can, because we have a strong feeling that she will be playing sold out venues soon enough.
ROSS LIVERMORE
Boasting a powerful voice that has been known to cause a hush to fall over a room, Ross Livermore is a singer's singer. No slouch on guitar either, he beautifully combines elements of soul, r&b, and pop with modern rock and blues arrangements. His latest offering, an EP entitled This Is Not Forever, recorded live to tape at Welcome to 1979 studio, is packed with optimistic, and powerful songs, which drip with that nostalgic sound only direct to tape studios can capture. The tracks are designed to make the listener forget about what ails them, and take them to a better place, however briefly. Raised blue-collar in Peabody, Massachusetts, Ross knows a thing or two about hard work, and he's been putting in the time an effort to refine his craft, with no plans to slow down anytime soon. He now rests his head in Nashville, so get on the bandwagon now, while there's still room, and support a resident talent while you do.
LONELY BENSON
Aussie bred and Nashville based pop rock performer Lonely Benson (the solo vehicle of local artist Dan Young, who formerly fronted Seattle alt rock group This Providence) has been piquing our interest for for awhile now, and we couldn't be more stoked to finally get the chance to host him at Acme. With a chilled out, and pleasantly laid back feel to everything he's put out so far, Benson is probably the perfect way to get things simmering Tuesday night. He's also eager to share his self-titled debut early in 2018, and you can check out his Kickstarter if you'd care to help make that happen. For now, enjoy his amazing cover of Hall & Oats "I Can't Go for That (No Can Do)" below, and be sure to get to the venue on time to see him do his thing live and in person!
Nightingail, Ross Livermore, and Lonely Benson will perform Tuesday, Nov. 14 at Acme Feed & Seed. The show is 21+, begins at 7 p.m., and, per usual, it's totally FREE!