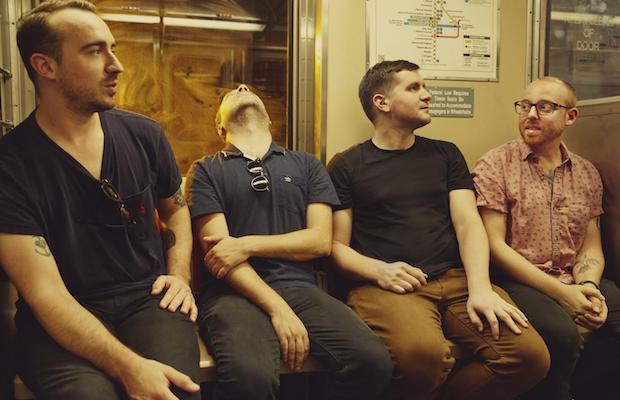 Heralded as one of the best punk bands of the past decade, Philadelphia's The Menzingers have been fueled by both underground cred and critical acclaim since their breakout 2012 third LP On the Impossible Past, and with their latest and fifth album, this year's After the Party, the group continue to flex the emotional, angsty, powerful, heartland fueled punk that sets them apart. A powerful and dynamic live force, it's been nearly four years since the group last played a headlining show in Music City (they've been back as opener more recently), so their return tonight, Oct. 13 at The Basement East is all the more exciting. Tickets are still available here, and with support from two of our favorite local acts, Secret Stuff and Pale Lungs, this is an essential show for any fan of quality punk. Read on for more about the lineup!
THE MENZINGERS
Formed in 2006 in Scranton, Penn. and now based in Philadelphia, The Menzingers have managed the difficult feat of both maintaining punk cred and an underground audience while also earning ubiquitous, widespread critical acclaim from major tastemaking outlets, many of which rarely give scrappy, earnest punk bands a second glance. Formed in the ashes of their teenage projects Bob and the Sagets and Kos Mos, The Menzingers' early years were met with strong initial buzz throughout the punk blogosphere, and they soon found themselves on the road with acts like Anti-Flag and Against Me! The true turning point, however, came in 2012, when, after inking a deal with Epitaph Records, they released their third full-length On the Impossible Past, which managed to amass unprecedented critical attention and propel them beyond the punk world, earning a spot on countless best of lists and bringing expected crossover cred to the largely still underground act.
Able to expertly walk the lines of punk and pop punk, raw and polished, emotional and angry, and personal yet wielding a mass appeal, The Menzingers are one of the most organic, well-respected bands in the new underground punk movement, and channel an air of importance on a broader cultural context truly worth experiencing, punk fan or not. With 2014's Rented World, they further flexed their love of heartland rock and everyman romanticism, hinting at personal growth without abandoning their punk roots. This year's Will Yip produced fifth LP After the Party continues what almost feels like a three LP arc, reflecting a bit more on getting older and edging towards 30, without resigning to become a grownup just yet. With its dynamic instrumentation, raw emotional power, anthemic harmonies, and driving melodies, the group's latest is surely primed to please any longtime fan, and is also a great jumping off point for newcomers. Whether you're familiar or not, the best way to experience The Menzingers is live, so don't miss your chance to do so tonight!
SECRET STUFF
Effectively the artistic vehicle of local DIY punk champion Michael Pfohl, who not only contributes musically to the Nashville scene, but also serves as a key figure in growing it behind the scenes as well, running his own prolific, punk-geared booking company, Fountainhead, and formerly hosting shows in a now-defunct house space called Exponent Manor, Secret Stuff have long been site faves, since first emerging in 2014. In recent years, the band have earned national buzz through constant touring, adding their own voice to revivalist trend in emo with personal, earnest, and resonant songs fusing pop punk and midwestern, classic emo flair. Expect a debut full-length in the near future, as the band's stature continues to grow!
PALE LUNGS
Formed just last year in nearby Murfreesboro, Pale Lungs have fast become one of our favorite rising acts to emerge from the the thriving local DIY scene (they're also an instrumental part in helping grow the scene, making house space Dad's Garage a viable stop for local and national acts). With impressive dynamic range, the group, who opened for Dashboard Confessional earlier this year at The Basement East, tap into a visceral, emo-informed, ambient, indie/post-rock sound to stunning effect, and their debut EP, Strawberry, which arrived just a few months ago, is already one of our favorite local releases of the year.
The Menzingers, Secret Stuff, and Pale Lungs will perform tonight, Oct. 13 at The Basement East. The show is 18+, begins at 8 p.m. (doors at 7 p.m.), and tickets are available for $21.