Harry Styles
w/ Cam, Muna
The Ryman Auditorium; Nashville, TN
September 25, 2017
Review by Philip Obenschain (@pobenschain). Photos by Mary-Beth Blankenship.
At 23 years old and nearly two years removed from the hiatus (or split, or whatever you want to call it) from the group that made him famous, One Direction, young, English musical phenom Harry Styles, who also took a breakout turn at acting earlier this year with critically beloved Christopher Nolan war film Dunkirk, is finally stepping out of the shadow of his former band and leveraging his following as arguably its most famous member to mount a solo career. Earlier this year, Styles unveiled his eponymous debut, opting to eschew 1D's poppy, glossy, youthful sound for one that bears more resemblance to classic Britpop, singer-songwriters of '60s and '70s, soft rock, and even a touch of glam. As a warmup for his arena tour next year (One Direction headlined football stadiums, mind you), Styles opted to play more intimate theaters for his first proper tour as a solo performer, and its very third stop brought him to Nashville's Ryman Auditorium– by his own admission, a space that largely helped convince him to do this run in the first place. We were fortunate enough to be there- something, no doubt, countless diehard fans would give up a great deal for- and, below, you can read our review and check some some photos from what will, in all likelihood, stand as an important moment in musical history.

I've seen a few bands with fanatical followings at The Ryman before (Fall Out Boy, and, proving that not all rabid fandoms fit the "young women" stereotype, Morrissey, come to mind), but nothing I've seen at The Ryman or anywhere else can quite compare to the level of unbridled, wild, and unrelenting enthusiasm on display at a Harry Styles show. As I approached, I noticed crowds of fans roaming around outside, beefed up security, and equal levels of chaos and adrenaline-fueled excitement. Taking my seat downstairs, I did a quick scan of the room, and was a bit surprised to find the crowd slightly older than I expected, the average age probably mid-20s.
The first of two openers, and the one I was a bit less familiar with going in, LA dark electropop trio Muna promptly kicked things off for a lean, exciting, and fitting warmup set. I'm not sure how directly involved Harry was in selecting them for the tour, but it was especially awesome to see queer, female musical representation in front of a lot of likely new fans, and as with all things Styles-adjacet, much of the crowd seemed to have taken the time to get very up to speed on their songs and performance in advance. With a powerful, engaging live presence, the group played familiar tunes like "I Know a Place" and "Winterbreak," and left me ready to rock their music on repeat as soon as I got home.
Following a quick changeover, rising local country singer Cam, an apparent addition for this show only, brought a whole different dynamic that felt like a great nod to Styles' few Nashville ties (he worked on his debut in Music City, and ultimately recorded it in Jamaica with Nashville's Tyler Johnson, who also helmed Cam's major label debut, among the stable of producers). Cam commands a sort of timeless, old school country vibe that feels perfectly suited for The Ryman stage, and she was absolutely beaming to be there, telling a story about visiting and having her photo taken on a Ryman tour years before finding breakout success. No surprise from a local crowd, but fans cheered and sang along to familiar cuts like "Cold in California," her cover of Patsy Cline's "Sweet Dreams," and, of course "Burning House," and though she was a bit of a musical outliner (not that Styles' sound is especially close to Muna's either), her local, country presence felt like a nice touch.
Harry Styles. Photo by Mary-Beth Blankenship.
Both openers' sets were brisk, so, before long, it was time for the main attraction. I thought I'd already heard a taste of the crowd's volume during the supporting sets, but I had NO idea what I was in for when it was finally time for Styles to emerge. A curtain dropped during setup, and the cheers and screams became absolutely deafening, only to somehow defy the laws of sound in their volume and intensity once the house music dropped and a spotlight pointed to reveal Harry's silhouette, breaking into "Ever Since New York" before the curtain dropped to reveal the performer and his band. Though they only managed to drown out the music a handful of times, the screams almost never stopped, louder and more passionate than shows ten times the size, creating what I can only assume was an experience similar to Beatlemania, or, perhaps some of the culturally dominant teen idols of later eras in their prime (I realized I haven't really seen many analogous performers at their cultural heyday).
Decked out in a vintage, brown, bold suit- a bit less flamboyant than some of his other looks- Harry and the band, situated around him and behind on platforms, and also looking a bit like they just arrived from the '70s, immediately struck me with how clean and analog they sounded. A far-shot from his pop singer origins, this was properly a band, and a good one, and Styles, armed with an acoustic guitar, felt at ease and well-suited to front it. If anything, I wondered how this show could possibly scale to fill a Bridgestone Arena-sized run (where they'll play next year), but perhaps that's a future question for when this tour wraps. For now, the intimate theater environment not only lent itself perfectly to their sound, but also the experience of being close enough to watch them interact and command tight chemistry was an impressive sight.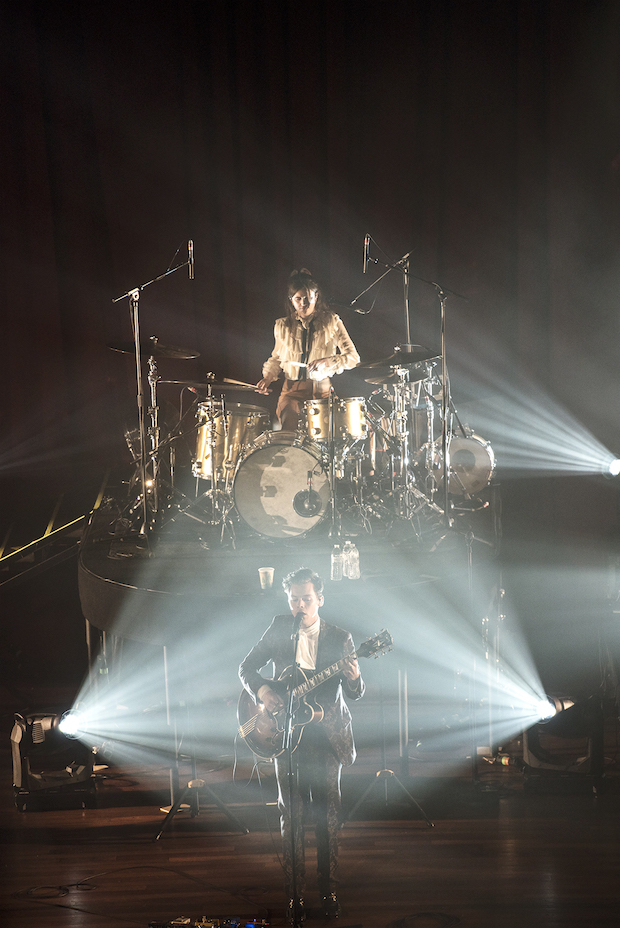 Harry Styles. Photo by Mary-Beth Blankenship.
At just ten tracks, Styles' one album isn't quite enough to make for a filled-out set, so, as anticipated, he made up for it with covers and even a One Direction cut. I was very impressed that he played every single song from the LP as well though, a sign of confidence in its strong, lean, and varied tracklist. From the folky ballad "Sweet Creature" to the dreamy, airy "Meet Me in the Hallway," to set closer "Kiwi," which landed surprisingly heavy and powerful, the young performer flexed his range as a solo artist, and one that far transcends the "boy band" label, destined for a long career and growing critical cred as he settles into a sound and cements his style.
A cover of Ariana Grande's "Just a Little Bit of Your Heart," which Harry famously wrote, was cool to hear from his unique spin, and Fleetwood Mac's "The Chain," part of a three-song encore, felt perfectly suited to the vibe he's adopted, but a rendition of Little Big Town's "Girl Crush," included especially for Nashville, was definitely the most out of left field. Styles clearly seems to hold an affinity for country, which you can hear ever so faintly on elements of his debut, and that song, penned by the talented Lori McKenna, Hillary Lindsey, and Liz Rose, definitely has a strong enough core to lend itself to covers from non-country performers. Of course, One Direction's "What Makes You Beautiful" elicited the wildest response of all, and I kind of loved hearing it backed by a rock band and stripped of its gloss and multi-part harmonies. Instead, it came to life more like a '70s glam song, Styles dropping the guitar and strutting around the stage with the energy and charisma of an accomplished frontman.
Harry Styles. Photo by Mary-Beth Blankenship.
Fittingly, the encore concluded with "Sign of the Times," the single that launched Harry Styles' solo ambitions earlier this year. A really remarkable rock song, its anthemic, Britpop built was exhilarating to see live, boosted by the deafening sound of 2,500 fans singing along at the top of their lungs. I know it's easy to write off One Direction as a trendy, manufactured product of the times (and in some ways, they certainly were, though that doesn't diminish their impact and passionate following), but, like many ex-boy banders before him, it's going to be increasingly difficult to discount the talent and genuine artistry of Styles, who, though maybe not quite yet at the impossibly high bar of hype and expectations that had been set for him, is a gifted performer with an exciting and long future ahead. He may not always been arena-sized, but I suspect that for the rest of his career, shows like this will be remembered as some of his most fundamental and unique. I'm glad I got to witness one.
_
Setlist
Ever Since New York
Two Ghosts
Carolina
Just a Little Bit of Your Heart (Ariana Grande cover)
Sweet Creature
Only Angel
Woman
Meet Me in the Hallway
Girl Crush (Little Big Town cover)
What Makes You Beautiful (One Direction song)
Kiwi
From the Dining Table
The Chain (Fleetwood Mac cover)
Sign of the Times
_