Live on the Green 2017 Weekend Finale
Public Square Park; Nashville, TN
September 2-3, 2017
Review by Philip Obenschain, Jacob Ryan, and Lorie Liebig.
Photos by Jake Giles Netter and Amber Davis.
Though intended to be a 3-day weekend finale, as with the past several years of Live on the Green, the remnants of Hurricane Harvey had other plans, and the fest's Labor Day weekend affair was forced to be drastically altered. And, while it's a shame Thursday performers like Iron & Wine and Dispatch were outright canceled, our thoughts and concerns, of course, turned to the safety of all Nashvillians, as flooding and the threats of a tornados plagued the area. The extreme devastation in Texas put things in perspective, but to those whose homes were flooded and who were forced to evacuate right here in Nashville, the disastrous weather hit just as close to home, and our thoughts go out to everyone affected in our city and beyond.
After Thursday's false start, Friday, wisely, was preemptively moved to Sunday (and Saturday stuck to the original schedule), losing only one planned performer in the process, salvaging the weekend with two days of packed music, which, once the storm cleared, turned out to be quite pleasant. We made it out to celebrate the end of the storm, catching 18 stellar acts over two days, and, per usual, we've collected our thoughts and photos for you below! A worthy end to another excellent season, we're already eagerly awaiting next year's fest!

SATURDAY
After a tremendous Thursday downpour and tornado warnings, and a Friday in which another heavy rain would really have further elevated flooding concern, it was a relief to see the weather calming down as we headed into weekend, and, by Saturday, to see the forecast calling for clear skies and relatively low temperatures. All of Nashville seemed anxious to get out and enjoy the holiday weekend- if not the official start of fall, at least the symbolic one- and, unsurprisingly, Saturday's two-stage, all-day affair was exceptionally well-attended, and, thankfully, the site unharmed by the proceeding days' storms. Saturday brought the biggest day of the season, with main stage sets from Bahamas, The Delta Saints, The Record Company, LP, The Lone Bellow, and Future Islands, and, though initially planned to be used all three days, it ended up being the only day to also feature the secondary 615 Stage, which hosted Mr. Steve, Guthrie Brown, Cordovas, Paper Route, The Voodoo Fix, and Elliot Root.
As I arrived early to check in, relieved to find the grounds fairly dry, I swung by the 615 Stage to catch a bit of the Kids Fest, hosted by Mr. Steve, The Music Man. Now a Live on the Green tradition, it's the only musical event of the month-long run specifically geared towards children (through all of LOTG is all ages, and the music mostly family friendly), and Steve, a accomplished children's performer and songwriter as well an an educator, excels at what he does. With special guests and plenty of interactivity, covering singalong standards like "Old MacDonald Had a Farm," the young'ns were having a blast, and it's always great to see the fest make a point to capture the attention of attendees of all ages. [PO]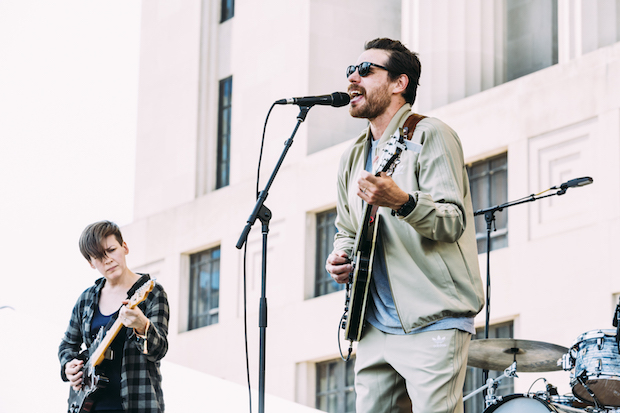 Bahamas. Photo by Jake Giles Netter.
As the afternoon settled in, a bit hotter than I expected, I grabbed a spot by the stage for Bahamas, who I've casually followed for a long time, but hadn't seen live in several years. Effectively a solo vehicle for frontman Afie Jurvanen, the project seems to be a lot more collaborative live now, with an excellent backing band, who Jurvanen repeatedly called to attention, even once in song, making sure to give them their due. It's been three years since Bahamas' last effort, Bahamas Is Afie, so I expected to hear some new stuff, and they totally delivered.  The whole set had a lot more energy and upbeat style than my previous Bahamas experiences, and, though they mentioned having flown in early that morning from their native Toronto, the band put on an exceptionally lively and engaging show for early afternoon, with Jurvanen frequently telling stories, talking to the crowd, and doing what was either a freestyle, or rehearsed, fun, musical interludes. In addition to favorites like "Lost in the Light" and "All the Time," Bahamas' new stuff was really interesting and marked a definite turn, if it's destined for a record, with one song centered around how "Bad Boys Need Love Too." I couldn't have asked for a better way to kick of the main stage, and they group definitely set the bar high for the day to follow. [PO]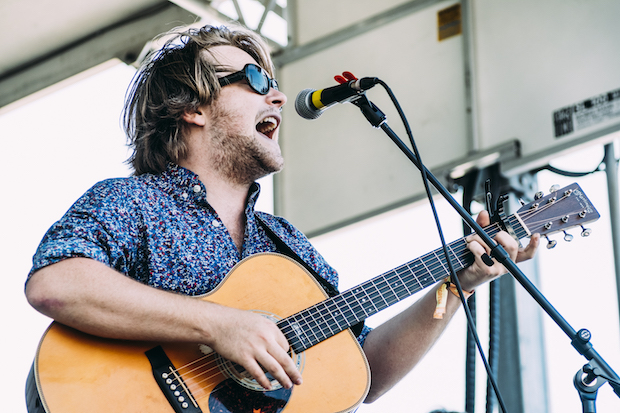 Guthrie Brown. Photo by Jake Giles Netter.
Guthrie Brown has been on our radar since not long after the young Montana native first made the move to Music City, and it's been wonderful to watch his musical journey over the past few years. Hailing from a background of folk and Americana, Brown's earlier work leaned more heavily into that realm, and his early appearances with skilled former backing band "The Family Tree" always blew me away. More recently, Brown, now sans The Family Tree designation, has been exploring the rock side of his influences more, with latest EP, Natural, adopting an alt/indie flair. I hadn't seen Guthrie in a couple years, so LOTG was my first chance witnessing this new direction in person, and I absolutely loved it. Weaving between a few energetic and folkier numbers, singer-songwriter, and even dance rock tunes, Brown and his slimmed down backing band, largely adopting more conventional rock configuration, absolutely soared, attracting a sizable crowd and really upping the energy with a performance that could barely be contained by the tiny stage. [PO]
The Delta Saints. Photo by Jake Giles Netter.
I don't remember the big and small stage set times overlapping in the past (though I might be wrong), and I noticed it really helped keep the pace moving even more than expected, unlike the long (but necessary) downtime during changeovers on the one-stage nights. Before I knew it, The Delta Stains were kicking off, continuing the weekend trend of local talent after a largely touring act-geared first half of the season. Admittedly, The Delta Saints are a band I kind of forget about between release cycles and well-publicized appearances, but every time I see them, they're absolutely top-notch, and remind me why they were able to sail from a promising little local band to a group with national attention. They've been at for a decade now, and it shows- the quintet sounded more honed and engaging than I'd ever heard them, feeling comfortable and at home in front of the main stage crowd, lighting the place up with their sweeping, anthemic, blues-dripped rock. I haven't given their latest LP, Monte Vista, nearly enough listens, but after hearing their latest material live, I really got it; the new stuff absolutely soars, and Delta Saints' return to Live on the Green felt not just well-deserved, but absolutely triumphant. [PO]
Cordovas. Photo by Jake Giles Netter.
Though some of my fellow contributors have wholeheartedly recommended them, I somehow had never seen Cordovas live before this weekend. Definite road dogs, the group, fronted by Joe Firstman and marked by a rotating lineup over the years (which now seems pretty settled into its current four-piece incarnation), still regularly make time to make hometown appearances, and have been rapidly attracting national buzz lately ahead of new album That Santa Fe Channel, after attracting cult fame here in town. Walking the line between southern rock and Americana, with a Dawes-esque fusion of retro sounds and modern indie warmth, the band were even better than I could have imagined, finding myself immediately hooked by their timeless, genre-bending jams. They played with a great focus and refinement, largely letting their music do the heavy lifting, and though their vibe is still that of an intimate, communal, and personal performance, I could easily see it scaling to a huge stage. I know I'm late to the party, but if you also haven't managed to check out Cordovas yet, I urge you to correct that as soon as possible! [PO]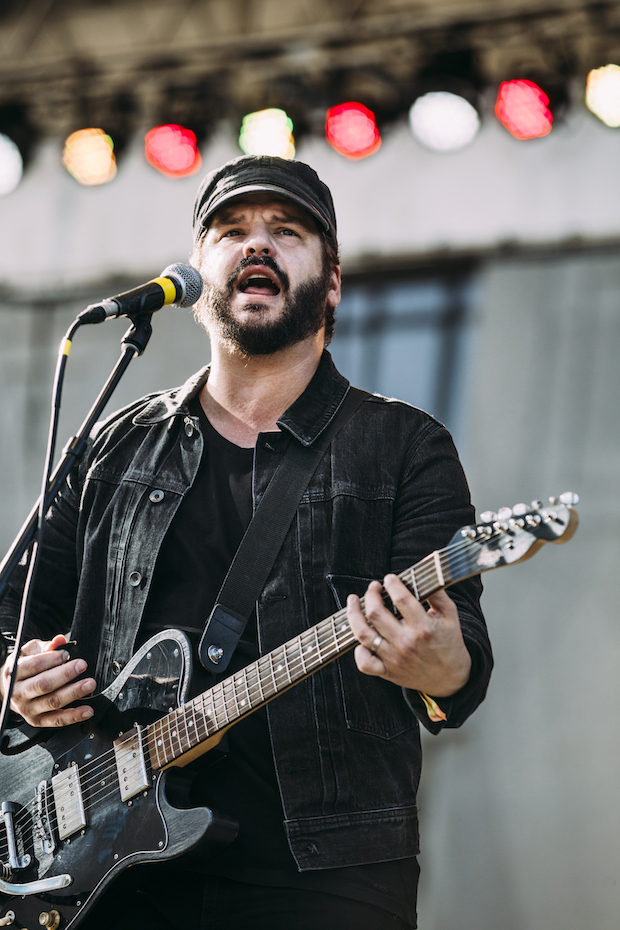 The Record Company. Photo by Jake Giles Netter.
Arriving at Public Square Park just as The Record Company got cranked up, I was immediately impressed with the LA based blues rock trio. I'd heard them plenty on the radio, and had them high on my "must-see list," and I'm so glad I caught them here in town for free, because I can guarantee their popularity, and ticket prices will only be going up. Lead guitarist Chris Vos displayed skull-melting talent, using a slide as well as anyone, and playing lap steel/pedal steel guitar masterfully. With powerful percussion and bass/guitar accompaniment, they created a raw, and sincere form of rock and roll that harkened back to the genre's delta blues roots. During a break in the action, they mentioned they were winding a long tour, and they'd been super stoked to close out with such and awesome event like LOTG. There really is something about such an awesome mini-fest happening the heart of downtown Nashville. As the crowd grew, and the band plowed through their setlist, the weather only got better, and everyone could tell it was going to be a very special night of live music. [JR]
Paper Route. Photo by Jake Giles Netter.
A far as my personal taste is concerned, Paper Route were one of my favorite performers of the entire season lineup this year (right up there with Spoon, Minus the Bear, Portual. The Man, and Iron & Wine), and probably the band I was looking forward to the most on Saturday. A Nashville fixture for well over a decade, the small stage seemed a weird fit, but I get that the LOTG crowd isn't exactly Paper Route's typical audience (who regularly help them sell out their hometown appearances). Still, the small stage area was packed, and many attendees seemed to arrived strictly for this set, as the indie rockers took the stage for what marked just their second local show of the year. After a morning of folkier and more subdued bands, I was thrilled to hear their synthy, modern, punk-tinged, and pop laden sound, eliciting dancing, singalongs, and a huge burst of energy. Pulling from their whole catalogue but especially last fall's fantastic (and incredibly underrated) Real Emotion, the flourishes of rock riffs, huge hooks, and electronics were a welcome break from the rest of the festival's pace, and, for my money, Paper Route managed to steal the show, delivering one of my favorite performances of the whole fest, ending my day on a high note as I handed review duties off. [PO]
LP. Photo by Jake Giles Netter.
After grabbing one of the best chili dogs I'd ever had in m life, I made my way back to the main stage for alt-pop rocker LP. Famous for her collaborations with artists like Cher, Rihanna, and Christina Aguilera, as well as for her original work, I'm was familiar with LP's music, but hadn't ever really seen pictures of her. When she sauntered onto the stage, all smiles, a dead ringer for Bob Dylan, I was a little surprised. Of course I already knew her voice was out of this world, and made Dylan's, even at his best singing, sound like a babbling old man. Over the course of her fifteen plus year career, LP has developed a very diehard fan base, and they were there in force, singing every word, and whistling along to melody. It was incredible to witness such a tremendously powerful voice coming from her small frame; never judge a book by its cover. Her multi-octave singing had a very nice theoretical bravado that is quite pleasing to the ear, and her mastery of pitch is also stunning. She powered through her bevy of popular songs, and performed some deeper cuts too, keeping her very well represented fanbase happy. Over all I must say I was throughly impressed with her more rock than pop leaning performance, and her incredible stage presence. Always a top must-see in a festival setting or otherwise. [JR]
The Voodoo Fix. Photo by Jake Giles Netter.
As soon as LP had finished, I jetted over to the 615 Stage for the start of local rock outfit The Voodoo Fix. A name we've been hearing more and more lately, especially after they earned their LOTG spot winning the Music City Mayhem battle of the bands. Fast and hard blues rock, with a bit of punk edge, Voodoo wasted little time putting their peddle to the metal, blasting their speakers into overdrive. They cranked out some songs I remembered from their stellar 2016 release In Deep, as well as some new material form them latest offering, Back For More. As good or better than I could have imagined based on the recorded work, they showed everyone in the attendance why they were as worthy as anyone to rock the stage at Live on the Green. I look forward to catching them again locally, and I'm sure if they stay on the grind, bigger, and better things are in their future, including a growing national audience. [JR]
The Lone Bellow. Photo by Jake Giles Netter.
Moving with the heard back to the main stage for The Lone Bellow, I took some time to get off my feet and just relax. Lounging in the grass, I enjoyed their indie folk flavored, alt-Americana tunes. The band possess a fairly one of kind sound that is difficult to compare to anyone else, and it was the mandolin playing that I seemed to latch on to immediately. Mellow and sweet at times, lightning quick and powerful a song later, it was the instrument that set the tone on my favorite songs of their set. When they really got it cooking, they had a Texas roadhouse stomp feel, with band members dancing and clapping to the rhythm when not playing themselves. The crowd seemed to follow suit, and it turned into quite a dance party by the end of their set. Lucky for us all, much more dancing was just ahead. [JR]
 Elliot Root. Photo by Jake Giles Netter.
Caught in a bit of a line for the bathroom, I ambled over for local indie alt rockers Elliot Root a few songs in. They reminded me of a much less effect/distortion filtered version of alt-J. Root's sound has a much cleaner feel, but still bounds around same far worlds alt-J might explore, and is able to break lots of new ground as well. Still relatively new on the scene, their debut full-length release, Conjure, dropped just last month, and based on the initial buzz, and what I saw of their performance, they may be the next hot national act that got its start right here in Music City. I look forward to hearing much more from them in the near future.  [JR]
Future Islands. Photo by Jake Giles Netter.
Speaking of the future, it was soon time for the main event to take its turn on the main stage. Future Islands are another band I've become very familiar with thanks to SiriusXM radio. Darlings of my current favorite station, XMU, Future Islands had become a band I never thought could possibly live up to all the hype. I'd never seen them live, and was willing to give them a shot, but I'd already told a friend I was chatting with that I might leave their set a little early to beat the rush home. Stopping me dead in my tracks, my friend explained that I had to stay until the end, and once I saw frontman Samuel T. Herring do his thing I'd understand why. My friend was 100% correct. Sporting bad ass Wolverine inspired mutton chops, Herring bounded around stage like the Tasmanian Devil. His truly amazing vocal range, fluctuating from a low, visceral, rumbling growl to clear and calm, has to be seen to be believed. Beating his chest as he ran from stage right to left, and back again, I can't fathom how he kept his breath. The crowd, myself included, was loving every second of it, many singing their hearts out to every word. The energy all around was truly next level, and I never wanted it to end. Topping only himself, Herring broke into what look like the Russian Squat dance, bouncing up and kicking his leg out as he went, before finishing off in toy top like spin. I laughed hysterically at a group of guys next to me trying to imitate him. They had little to no success. By the end everyone, performers included, were a hot sweaty mess, and another amazing night of LOTG 2017 was in the books. [JR]
Photos by Jake Giles Netter.
_
SUNDAY
Originally slated for Friday but preemptively rescheduled for Sunday- a Live on the Green first- it was a bit of a game of leapfrog where the weekend finale happened in reverse, though what ended up being the all-local Sunday slate- The Whistles & The Bells, Ron Gallo, Goodbye June, SHEL, Drew Holcomb & The Neighbors, and closer Sheryl Crow– felt like a perfectly fitting end to the season. Absent only were Friday performers Big Head Todd and the Monsters, and, rather than following the two-stage format as originally planned, the fest opted to extend the hours and move everyone to the main stage, mirroring the first three Thursday with double the acts.
The Whistles & The Bells. Photo by Amber Davis.
When I arrived on site about twenty minutes before The Whistles & The Bells were set to start, I wondered if I got my times wrong. The usually bustling festival was sparsely populated and the few that were on hand were hiding happily in the fest's few shady areas. The band came on to only a handful of people of the lawn, but that didn't affect their energy. Relying heavily on cuts from their new record Modern Plagues, they did their best to get earlybirds to shake a tail feather. You know it's a tough crowd when a lighthearted, danceable tune like "Harry Potter" can't get people moving. Still, their set was an overall solid kickoff to the festivities. [LL]
Ron Gallo. Photo by Amber Davis.
With the sun shining, beers flowing and crowds starting to form, Ron Gallo started his set in true rock star fashion. What does that mean? It means politely (if not slightly robotically) reading off a list of thank-yous and Sheryl Crow puns before kicking it into high gear. He brought all the gleefully raw rock energy that flows through his latest LP, HEAVY META, to the main stage. When you can get the hipster bros in the front row to furiously bob their head, you know you're doing something right.  [LL]
Goodbye June. Photo by Amber Davis.
I previously caught Goodbye June back when they played LOTG in 2015 ahead of headliners The Head and the Heart. And although two years have gone by quickly, their live show has only gotten stronger. This time around, they had a whole new album to draw from. Magic Valley dropped back in May and features a  more evolved and gritty rock vibe that catches your attention and never lets go. That feeling was jam-packed into every moment of their time onstage, bringing those headbangers from Gallo's set back out into the wild. The set made you feel like you were in a smoky southern rock club in 1970s era Mississippi, which is no easy feat in that type of setting. [LL]
 SHEL. Photo by Amber Davis.
And now for something completely different. Sisters Sarah, Hannah, Eva and Liza Holbrook, better known as SHEL, brought all their individual talents to the mix during their LOTG set. The Colorado-born, Nashville-based group looked and sounded as cool as ever, running through a chunk of cuts from their latest record Just Crazy Enough. It's hard to find harmonies as seamless as SHEL's, who make the process of melding voices and instruments into one flowing rhythm seem like child's play. It's also nice to see a badass all-female band show off their talents in a rather male-dominated lineup. [LL]
Drew Holcomb & the Neighbors. Photo by Amber Davis.
If you're a music fan in Nashville and you've never heard of Drew Holcomb, you probably need to check your hearing. After years of constant touring and writing, Holcomb & the Neighbors have gotten national exposure and built their audience from the ground up, and they are certainly dedicated. Fans new and old converged on the lawn, ready to be engaged. With a mix of tracks from their 2015 breakout LP Medicine and this year's critically acclaimed record Souvenir, they showed off the talents that led them to their recent tw0-night residency at The Ryman. One of the highlights of their set was their anthemic tune "Shine Like Lightning," which encompasses the hopeful, determined energy that the band puts into everything they do. [LL]
Sheryl Crow. Photo by Amber Davis.
In a lineup filled with indie pop and alt rock, Sheryl Crow certainly stands out in the crowd. It's easy for the coolest of East Nashvillians to discount Crow as "that lady who wrote the song about soaking up the sun or whatever." But that would be a big mistake. Her headlining set on the final day of Live on the Green showed off some highlights from her lengthy career, from set-opener "Every Day Is A Winding Road" to every angsty '90s teen girl's anthem "If It Makes You Happy." The once too-cool-for-anything crowd turned into a massive singalong from the first few beats of "The First Cut Is the Deepest." From her impressive pipes to engaging stage presence, it was hard not to lose yourself in the joy of it all. And isn't that what this whole thing is really about? [LL]
Photos by Amber Davis.
_
[JR] Jacob Ryan
[LL] Lorie Liebig
[PO] Philip Obenschain