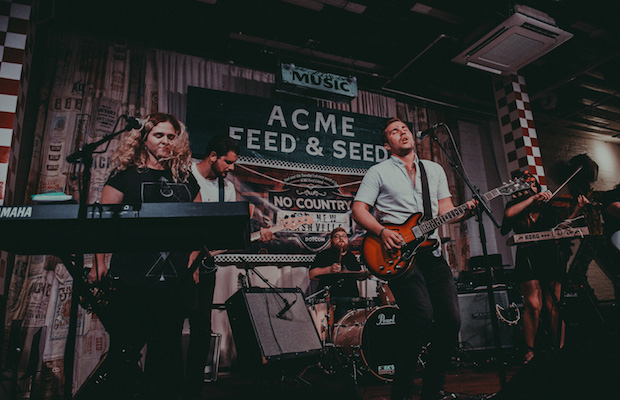 Foxtrot & The Get Down, Kiernan McMullan
Acme Feed & Seed; Nashville, TN
June 13, 2017

Review by Jacob Ryan (@GonzoWithGusto). Photos by Nolan Knight.
Our long-running, free, bi-monthly Acme Feed & Seed showcase series was rocking extra hard on June 13, thanks in no small part to Philly based six-piece Foxtrot & The Get Down, who are touring nationally in support of their new record, Roots Too Deep, record right here in Music City with local indie label American Echo Records. In the middle spot was the extremely talent local singer songwriter Kiernan McMullan, plus we kicked the night off with a live DJ set care of Acme Radio. Read on for a full recap of all the action, and check out some great shots from contributing photographer Nolan Knight.
Summer has officially arrived in Tennessee when the humidity percentages are so high, there are perpetual drops of sweat parked above your upper lip. I showered before leaving the house, but I don't know why I bothered. Soaked after walking just a few blocks, at least I knew blasting AC and some ice cold beer were waiting for me at the end of my little journey. Kickass free music always helps too!

Kiernan McMullan. Photo by Nolan Knight.
After downing a glass of water and a Little Harpeth Chicken Scratch, I was starting to feel my core temperature reach normal levels. I took a sip from my second brew as the the first performer of the night got down to business. Kiernan McMullan is a resident musician who's earned a reputation for being a road warrior; playing over 2,000 shows worldwide, averaging about 200 shows a year over his decade long career. Over the years, he's shared the stage with the likes of Ed Sheeran, Mat Kearney, Dave Mason, and John Butler Trio, so I figured he'd be no slouch when it came to performing. I figured right.
With the help of hand percussion on his acoustic guitar and a loop paddle, Kiernan was able to build his songs right before our eyes, live on stage. His always clean, and crystal clear vocal was often haunting, and had the uncanny ability to grab your attention immediately, from the first few bars. One of my favorites of the entire night was his second, the melancholy "Did I Leave Too Soon?" He also slipped in a very good reinterpretation of Paul Simon's iconic, "You Can Call Me Al," which had almost everyone in the dinner crowd grooving. Towards the end of his set, he created an eerie looped backing vocal by singing into the soundhole of his guitar, which was picked up by his amp. Singing back-up for himself, he performed his last song, then proceeded to do a little improvised jam to close out his stupendous set.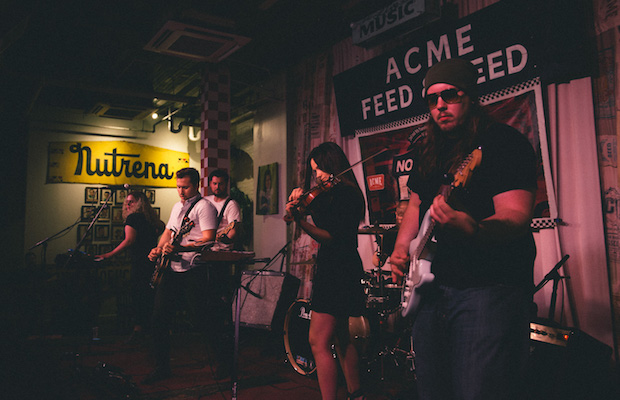 Foxtrot & The Get Down. Photo by Nolan Knight.

Wasting little to no time getting situated, it was obvious from before soundcheck that Foxtrot & The Get Down were going to be a balls to the wall, high energy extravaganza. From their very first number, "Postal," they made it clear they were going to play loud, hard, and fast. Honestly, I wouldn't have it any other way!
With two soulful vocalist that alternate leading and backing-up the other, plus shreddy blues guitar in high doses, The Get Down reminded me of modern, Philadelphian reinterpretation of the Blues Brothers band from late '70s.  Adding an extra wrinkle is their mic'ed up fiddle player, who is often given the chance to take center stage on some improvised jams/solos. A couple of my favorites were the super up-beat, and positive vibed number "Wake Up, Good Morning, I Love You," and the Nirvana grunge flavored synthed led ditty "Just A Kid." They also threw in an on point cover of the Gorillaz's "Clint Eastwood," and after two more originals, they called it quits. They were easily one of the most voluminous bands we've ever hosted soundwise, and one of the funniest too. We wish them well on tour, and assure them they are welcome back anytime!
Check out more photos below, and be sure to join us at our next Acme showcase, featuring The Outer Vibe and Kelly Ruth, on June 27.