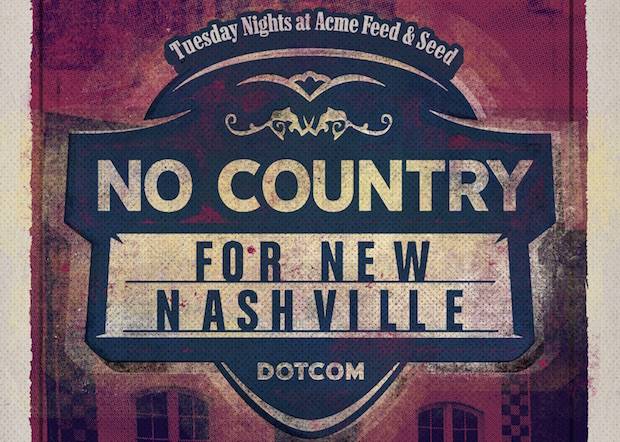 We are full steam ahead through spring with the 2017 season of our long-running showcase series at Acme Feed & Seed, settling into a new format that includes rotating DJ sets ahead of largely two-band bills going forward. Our next all local show will take place Tuesday, May 9, and it will feature the multi-faceted indie rocker Kellen of Troy and singer-songwriter Nick Nash, plus a DJ set when things kick off at 7 p.m. Read on for a full preview, and we hope to see you at the show!
KELLEN OF TROY
With a flair for weaving folk into his unique indie rock, Kellen of Troy is really just the current phase of multi-instrumentalist Kellen Wenrich's impressive career. He began making solo music last year, shortly after members of his former band, the now defunct and incredibly missed Apache Relay, went their separate ways. Wenrich played fiddle with Apache, but his skills on guitar, and crafting songs all his own, is just as impressive. We enjoyed his first few songs so much, we even asked him to play our Acme showcase last April. Now he's a little more show tested (as a frontman anyway), and eager for everyone to hear what he's been tinkering with. Work on his debut LP, Posthumous Release, is wrapping as we speak, but before that drops, he's going to release an EP of songs that didn't quite match the tone he wanted to set on his first full-length. These leftovers, which seem to have some level of melancholy in common, are being hailed as The Sad Bastard EP, due out this Friday, May 5. Kellen was also cool enough to let us debut the first single from the EP, "California," as well as host him in the headlining spot of our Acme bill for his official release show! Look for him to perform tracks from the new EP, as well as others that are yet to be released, and help a very talented Music City resident kick start his marvelous next phase.
NICK NASH
Originally hailing from the Wasatch Front region of Utah, Nick Nash now calls Music City home, where he is pursing his flavor of mellow Americana leaning singing and songwriting. Earlier this year, Nick released his debut EP, Fear of Perdition, which shines a light on his capacity to put thoughts and feelings into words that most of us have trouble even thinking about. His music gives off a Ryan Adam's Heartbreaker-era vibe, as well as some melody reminiscent of big name performers Iron & Wine. So get to Acme on time, to help a fairly new fixture in the local music game get his due, and show him why Nashville is also famous for it hospitality, as well as nurturing a thriving music scene.
Kellen of Troy and Nick Nash will perform Tuesday, May 9 at Acme Feed & Seed. The show is 21+, begins at 7 p.m., and, per usual, it's totally FREE!