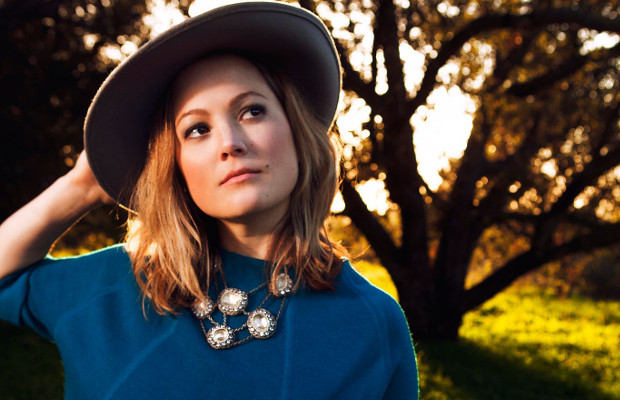 If you didn't make it to Bonnaroo and missed out on the Watkins Family Hour performance at City Winery last year, you have a chance to redeem yourself.  Founding Nickel Creek member, singer-songwriter and talented fiddle player Sara Watson is back in Nashville this weekend for a solo headlining concert you won't want to miss. She'll return to City Winery on Sunday, Jan. 29 to perform an array of cuts from her new album, Young in All The Wrong Ways. Nashville resident and seasoned singer-songwriter Liz Longley will be kicking things off, so what are you waiting for? Tickets are still available for just $18 right here, so grab yours now and read on for more about this stellar show.
SARA WATKINS
Sara Watkins has come a long way since she first earned praise for her songwriting and fiddling skills as a founding member of modern bluegrass group Nickel Creek. The trio, comprised of Watkins, her brother Sean, and mandolinist Chris Thile, has released six albums over a quarter-century. In 2007, the group embarked on a farewell tour to allow each member to focus on their individual solo projects.
After their split, Watkins released her first self-titled solo album in 2008. After touring heavily in support of the release for the next few years, she headed back into the studio and recorded her second LP, Sun Midnight Sun. The pop-influenced folk album was produced by guitarist Blake Mills and features appearances from Fiona Apple, who would also later appear on her 2015 project The Watkins Family Hour. In recent years, she's also worked alongside close friends Sarah Jarosz and Aoife O'Donovan.
Last year, she released her third solo album, Young in All The Wrong Ways. The record is filled with pure emotion, drive and an overwhelming urge to be heard. No matter where you are in life, you're sure to connect with the underlying themes of trying to find your way through life, even when the road is dark.
LIZ LONGLEY
Pennsylvania native and Berklee College of Music graduate Liz Longley is now one of East Nashville's most impressive transplanted singer-songwriters. In 2014, she made waves with her self-titled debut album with Sugar Hill Records. The emotional and well-crafted record expertly touched on the highs and lows we all go through, from honest self-reflection to utter heartbreak. Now, with her highly-anticipated followup Weightless, she explores the joy and freedom that comes with feeling love from others and yourself.
Sara Watkins and Liz Longley will perform Sunday, Jan. 29 at City Winery. The show is all ages, begins at 8 p.m. (doors at 6 p.m.), and tickets are available to purchase for $18-28.