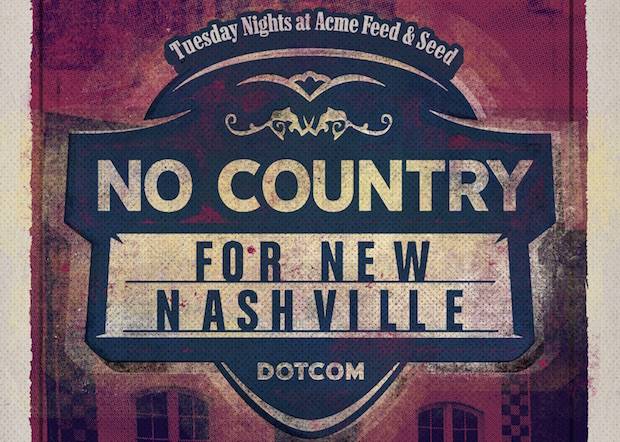 The 2016 edition of our showcase series in partnership Acme Feed & Seed comes to close on Dec. 6, but don't worry, we'll be back at our favorite Broadway hang twice a month in 2017. Looking to finish on a high note, Tuesday's showcase will feature folk duo Roanoke, a solo acoustic set from Runner of the Woods, and singer-songwriter Jared Hard. As always, we're bringing you all of this music for FREE, but we are starting at 6 p.m. instead of 7, since we are back to our winter hours. For more info on the bands, please read on, and we look forward to seeing you all again on Tuesday.
ROANOKE
Led by the powerful duo of Joey Beesley (guitar, vocals) and Taylor Dupuis (vocals, tambourine, guitar), Roanoke's music has the rare ability to touch listeners on a more visceral level, invoking emotional charged feelings of heartbreak and self-exploration. With the help of an accompanying band of musicians (bass, drums, mandolin, violin), they've cultivated a sound similar to The Head and the Heart, albeit a more folk/roots/bluegrass leaning version. They also excel with vocal harmonies that prove that near perfect pitch is attainable. The group are eager to show Music City they're ready for the major leagues, and we took notice when we premiered their self titled debut earlier this year.  Once you check out their track "Jordan" below, we're sure you'll feel the same way.
RUNNER OF THE WOODS
A local performer we've been following for a while now (read this post or this one), Runner Of The Woods have been on our Acme wishlist for a long time. Owning a very unique sound that's just a little bit country, with Wilco-esque and trail-hiking troubadour flair added in heavy doses. Primary singer/songwriter/guitar player Nicolas Beaudoing is captivating live, and we're super stoked to have him do him on board to perform a solo acoustic set. This ultra intimate performance is a departure from his usual full band lineup, but based on his debut record, Thirsty Valley, we know he's got the chops to pull it off.
JARED HARD
Growing up the third of four children, in a music loving family, Jared Hard might have had bit of a head start on other singer songwriters. In fact, some of his earliest memories involve singing with his siblings around the family piano, or participating in the hymnals at his local church. By the time he was just eight years old, he was experimenting with songwriting; jotting down poems and learning guitar. Fast forward a decade and a half. Now Jared calls Nashville home, and he is pursuing his passion for creating original music. Make sure you're on time, because everything we've heard from him has been stellar, and we look forward to catching him live.
Roanoke, Runner Of The Woods, and Jared Hard will perform Tuesday, Dec. 6 at Acme Feed & Seed. The show is 21+, music begins at 6 p.m. now for our winter hours, and, per usual, it's totally FREE!
Downtown PARKING can sometimes be an issue. However, if you're willing to walk a few blocks, street parking is typically easy to find on the numbered avenues south of Broadway or along Korean Veterans Blvd, and metered spaces are typically free after 6 p.m.