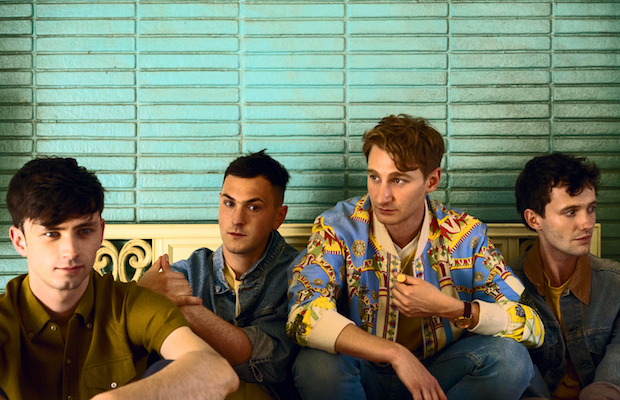 Returning to Nashville this Sunday, Nov. 27 for the third time in just as many years, and graduating from Exit/In to Marathon Music Works, and, now, to The Ryman Auditorium, English indie rockers Glass Animals, who we most recently caught and loved this summer at Forecastle Fest, are out in support of their fantastic sophomore album, How to Be a Human Being. An incredible live act with a unique and diverse sound, the young group's rise has been swift and well-deserved, and their upcoming outing will serve as an extra special treat to end Thanksgiving weekend. Just a handful of tickets are still available here, so grab 'em while you can and find out more below!
Formed five years ago while frontman David Bayley was in med school, Oxford, England's Glass Animals were never supposed to be a full-time project. Suffering from insomnia, Bayley begin working on song demos in GarageBand late at night, eventually forming the genesis for the group's 2012 debut EP, Leaflings. After sharing the music with his childhood friends and future bandmates, who proceeded to polish the dense, poppy, psychedelic, indie, and trip hop infused tracks, Glass Animals were born, and soon found themselves surrounded by an unimaginable array of buzz.  The band signed to Wolf Tone, the imprint label of producer Paul Epworth, and found an even broader audience with the release of their self-titled EP in 2013. After scoring high-profile shows in Europe supporting the likes of St. Vincent, Metronomy, Yeasayer, and based on the strength of their incredible 2014 full-length debut, Zaba, Glass Animals proceeded to tour the globe, and have quickly become an exciting new fixture on the festival circuit. Their refreshing, unique sound is enhanced by their smart and broad thematic focus, producing songs rooted in literature, folklore, and broad personal experience. The group incorporate elements of tropical percussion, r&b, and a huge palette of organic and synthesized sounds, and, already, due to the strength of tracks like "Black Mambo" and "Gooey," have earned a reputation for being one of the best, most enigmatic artists to emerge from the indie scene in recent memory. Their highly-anticipated sophomore LP, How to Be a Human Being, arrived over the summer, and manages to expand on the group's engaging, unique sound. A powerful live force, Glass Animals' Nashville return, especially in a space as magical as The Ryman, promises to be one of the fall's most memorable shows.
Glass Animals will perform Sunday, Nov. 27 at The Ryman Auditorium. The show is all ages, begins at 7:30 p.m. (doors at 6:30 p.m.), and tickets are available to purchase for $35.