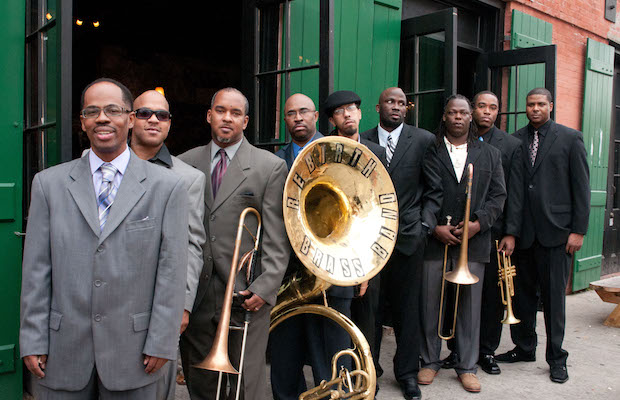 The Grammy Award winning Rebirth Brass Band are parading their way through Music City on Nov. 17, eager to share their special New Orleans brass drenched funk with audience members at 12th and Porter. Look for Chattanooga based genre bending rockers Opposite Box to open the evening of righteous tunes. Tickets to the show are currently available here for $20, but while you're checking out the site, enter our giveaway after the jump for a chance at free tickets. Go ahead and get more familiar with the bands while you're at it, and if you love to hear brass get funky, don't miss this performance!
REBIRTH BRASS BAND
Ingrained in the roots of the New Orleans brass band tradition since their inception in 1983, The Rebirth Brass Band have become an institution. With regional jazz family ties, and rich brass bloodlines running thick amongst present and former members, it's safe to say music is in this groups DNA (one high profile former member, Trombone Shorty, has built a legacy with his own band, while co-founder Kermit Ruffins has also gone on to become a legendary trumpeter and band leader in the Crescent City). Birthed on the streets of New Orleans, marching in Mardi Gras parades, playing theaters, and regulars at festivals like Jazz Fest, the group now tours the world, spreading the word that their home town's music will forever ring true. Over the prolific life of the band, and with many different but always effective line-ups, RBB have released over a dozen LPs, collaborated with countless artists, won a Grammy in 2012 for Best Regional Roots Music Album, and were prominently featured in HBO's hit show Tremé. Rebirth will forever be committed to keeping up the tradition of brass bands, while incorporating modern music, especially funk, into their live show. Be there in person to catch legends in their field, and don't sleep on this, because they don't come through often.
OPPOSITE BOX
A genre-bending, experimental rock band from just a little bit south of Nashville, Opposite Box are known for their super high energy shows that touch on elements of jazz, rock, funk, punk and prog rock. The band has self described their sound as "belligerent jungle funk," and their live performances have a funky-psych-pirate-circus atmosphere, featuring dazzling light shows, off-the-stage interaction with the audience, plus a wonderful cast of characters including belly dancers, fire eaters, hula hoopers, guest musicians and whatever else they have hiding up their sleeves. We'll be curious to see if it's toned down since they're just opening, but think of them as a new wave Frank Zappa meets Parliament Funkadelic. They released a kick ass debut LP, Make a Jungle Noise Here, just over a year ago, and, after twelve months of playing countless shows, they're no doubt ready to share new material. So get to the venue on time to catch all the shenanigans!
ENTER TO WIN TICKETS
Enter to win tickets by filling out the form below. Must be 18+ to attend. After you have entered, there will be the option to share this contest via social media. For each person that you refer to the contest, you will receive an additional entry. If you experience any trouble with the contest widget, or have any questions, feel free to email us at [email protected].
Winner will be announced Tuesday, Nov. 15, and will receive one pair of tickets. Good luck!
[contesthopper contest="81059″]
 _
Rebirth Brass Band, and Opposite Box will perform Thursday, Nov. 17 at 12th and Porter. The show is 18+, begins at 8 p.m. (doors at 7 p.m.), and tickets are available for $20-$25.