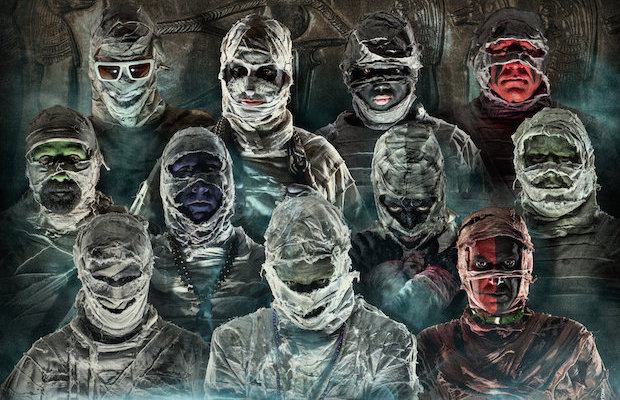 We gave you a shot at free tickets to this now annual party earlier in the week, but win lose or draw, tonight, Oct. 29 it's show time! Get your costumes ready ghouls, because the bandage wrapped funk band of fiends Here Come The Mummies are set to haunt Marathon Music Works, along with fellow costumed, action comic punk rockers Peelander-Z to kick things off. Tickets are still available here, but don't wait, because almost all of the Halloween hijinks around town are selling out, and this show probably will too. If you're still not convinced, read more about the bands after the jump, and we hope to see you tonight, decked out in your best seasonal getup!
HERE COME THE MUMMIES
What surely started as a Halloween joke, or something goofy a group of musician friends did for kicks in the early '00s, has proven to not just have legs, but kick ass on a musical level… with or without the gimmicks. Here Come The Mummies have always had a rotating lineup, of up to eleven musicians (none of which have ever been unmasked), and their mummified funk, rock, and blues is no laughing matter. With so much mystery behind a band, it's always fun to dig for clues. We do know they're based in Nashville, possibly under contract studio musicians, who have to hide their identities to keep from the breaking the "rules," but that's about it. It's also rumored that there are several Grammy winners and possibly even a really high profile name or two, among the undead. Best part? You can download their entire catalog for free at their website. For now, have a taste below, and don't miss what promises to be one of the best Halloween throwdowns in all of Music City!
PEELANDER-Z
Hailing from the Z area of Planet Peelander, "action comic book punk" band Peelander-Z are bringing their wonderfully colorful costumes, pro wrestler antics, and killer live show to Music City to open for HCTM. We're already familiar with their work, but for the uninitiated, their music is pretty straightforward old school punk, with some metal mixed in, but it's the rest of their schtick that really sets them apart, and makes for a once in lifetime experience. All members hail from Japan originally, but they formed in NYC in the late '90s, and have been going strong ever since. Together, both these always-in-character bands have formed the ultimate Halloween bill, and if this is your favorite holiday, it's the only show for you. Get to Marathon on time for the most action packed music as possible, and don't forget your costume!
Here Come The Mummies and Peelander-Z will perform tonight, Oct. 29 at Marathon Music Works. The show is 18+, begins at 9 p.m. (doors at 8 p.m.), and tickets are available for $35.