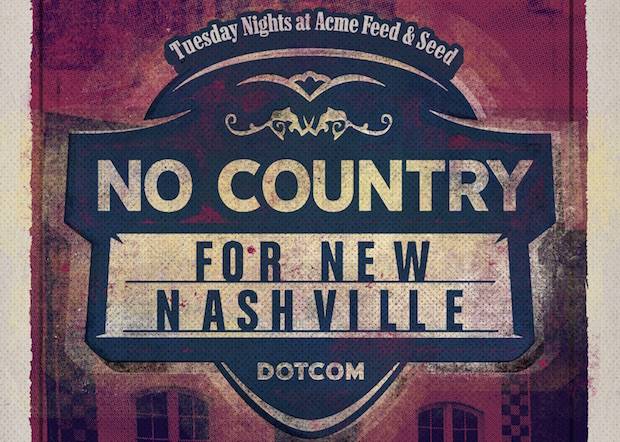 No matter where you fall on the political (or rationality) spectrum, Nov. 8 promises to be a day of dread, worry, and uncertainty. Even on a normal year, Election Day can be especially contentious, but this election in particular has been one of the most divisive, frightening, and bizarre in U.S. history. While we all wait for what we hope is a peaceful transition of power, we'll definitely need something to distract and alleviate the stress, and, luckily, our next Acme Feed & Seed showcase happens to fall on the very same Tuesday. The latest installment in our long-running series, a trio of stellar local artists promise to entertain and delight, and will help you find refuge from political turmoil, if only for few hours.
Longtime friends of the site, local rockers Waterfall Wash head up the bill, rounded out by indie pop/rock duo The Narrative, and folk/pop singer-songwriter Kayleigh Goldsworthy. For the usual price of free, and beginning at 7 p.m., this is one of our favorite Acme lineups all year; read on for more on why you don't want to miss it!
WATERFALL WASH
We've been hip to local rockers Waterfall Wash since their earliest days (thanks to guitarist Andrew Johnson being a former No Country contributor), and have delighted in watching them grow and hone their sound, a mix of folk, pop punk, and alternative, culminating in the release of their excellent debut EP, Foreign Chords, last year. On their latest, a recent mixtape called Married to the Sound, the group further push their musical limits, with more expansive, experimental, math-y, and synth-based influences, cementing their status of one of Nashville's most exciting up and coming bands. Live, Waterfall Wash are a lot louder and more energetic than their records might suggest, channeling punk energy and an eclectic array of instruments into a must-see performance. They've played our Acme showcase several times in the past, and we couldn't be more excited to welcome them back once more!
_
THE NARRATIVE
Formed nearly a decade ago in Long Island, New York, The Narrative were one of our favorite national acts for many years before recently relocating to Nashville, and now we're thrilled to be able to claim them as locals. We introduced you to the indie pop/rock duo earlier this year when we premiered a new single, but, so far, there haven't been any recent chances to catch them live in Music City, making their Acme appearance all the more exciting. Since springing onto the scene in 2008 with their debut EP, Just Say Yes, and continuing to build buzz with their 2010 full-length, self-titled debut, the group have undertaken several successful tour outings, earned tons of media praise, and forged a loyal fanbase from their DIY ethics and poppy and eclectic sound. Though the band have been relatively quiet since the 2012 release of their b-sides compilation, B-Sides and Seasides, they're gearing up to finally release their long-awaited sophomore LP on Dec. 2, and we expect tons more developments throughout next year, as The Narrative plant their roots and keep an eye on the future.
_
KAYLEIGH GOLDSWORTHY
Also a new Nashville resident, though no stranger to Music City, singer-songwriter Kayleigh Goldsworthy hails originally from upstate New York. A lifelong performer, the talented songstress co-founded Syracuse indie rock group The Scarlet Ending with her twin sister, and spent over a decade touring with the project, which would later expand to become a full band. After relocating to Brooklyn, Kayleigh began to pursue a career as a solo artist, gravitating towards folk, country, and pop influences, and landing a stint on the folk-punk leaning Revival Tour alongside big names like Chuck Ragan, Dan Andriano, and Nashville's own Cory Branan. Goldsworthy unveiled her new sound with 2013 LP Burrower, and spent the last few years performing and moving between different cities before ultimately settling in Nashville, where she's hard at work on new material. Be sure to show up early and welcome Kayleigh to town!
_
Waterfall Wash, The Narrative, and Kayleigh Goldsworthy will perform Tuesday, Nov. 8 at Acme Feed & Seed. The show is 21+, music begins at 7 p.m., and, per usual, it's totally FREE! Downtown PARKING can sometimes be an issue. However, if you're willing to walk a few blocks, street parking is typically easy to find on the numbered avenues south of Broadway or along Korean Veterans Blvd, and metered spaces are typically free after 6 p.m.