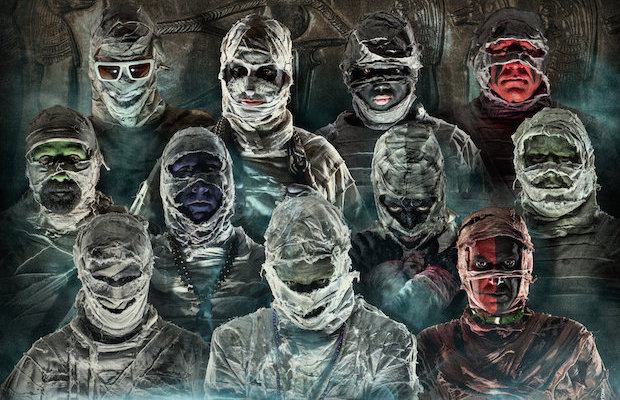 Are you a lover of all things that go bump in the night? Are you looking to make this year's Halloween weekend extra memorably spooky? If so, then this is the ONLY show for you, as Marathon Music Works and Lightning 100 host Paranormal Rocktivity 2016, starring the funkiest undead band around, Here Come The Mummies along with New York action comics punks Peelander-Z. Tickets are currently available here, but we're also giving away a pair of tickets to one lucky reader. Just click on after the jump for your chance to enter the contest, and to learn more about the best costumed lineup you may ever see!
HERE COME THE MUMMIES
What surely started as a Halloween joke, or something goofy a group of musician friends did for kicks in the early '00s, has proven to not just have legs, but kick ass on a musical level… with or without the gimmicks. Here Come The Mummies have always had a rotating lineup, of up to eleven musicians (none of which have ever been unmasked), and their mummified funk, rock, and blues is no laughing matter. With so much mystery behind a band, it's always fun to dig for clues. We do know they're based in Nashville, possibly under contract studio musicians, who have to hide their identities to keep from the breaking the "rules," but that's about it. It's also rumored that there are several Grammy winners and possibly even a really high profile name or two, among the undead. Best part? You can download their entire catalog for free at their website. For now, have a taste below, and don't miss what promises to be one of the best Halloween throwdowns in all of Music City!
PEELANDER-Z
Hailing from the Z area of Planet Peelander, "action comic book punk" band Peelander-Z are bringing their wonderfully colorful costumes, pro wrestler antics, and killer live show to Music City to open for HCTM. We're already familiar with their work, but for the uninitiated, their music is pretty straightforward old school punk, with some metal mixed in, but it's the rest of their schtick that really sets them apart, and makes for a once in lifetime experience. All members hail from Japan originally, but they formed in NYC in the late '90s, and have been going strong ever since. Together, both these always-in-character bands have formed the ultimate Halloween bill, and if this is your favorite holiday, it's the only show for you. Get to Marathon on time for the most action packed music as possible, and don't forget your costume!
ENTER TO WIN TICKETS
Enter to win tickets by filling out the form below. Must be 18+ to attend. After you have entered, there will be the option to share this contest via social media. For each person that you refer to the contest, you will receive an additional entry. If you experience any trouble with the contest widget, or have any questions, feel free to email us at [email protected].
Winner will be announced Friday, Oct. 28 at 12 p.m. CDT, and will receive one pair of tickets. Good luck!
[contesthopper contest="80659″]
 _
Here Come The Mummies and Peelander-Z will perform Saturday, Oct. 29 at Marathon Music Works. The show is 18+, begins at 9 p.m. (doors at 8 p.m.), and tickets are available for $32-$35.