Car Seat Headrest w/ The Lemon Twigs
Mercy Lounge; Nashville, TN
September 7, 2016
Review by Matt Hall. Photos by Jake Giles Netter.
Buzzy indie-rockers Car Seat Headrest made a triumphant return to Nashville to a packed house at Mercy Lounge recently, and we were there to capture the evening.  They were joined by the flamboyant duo of brothers, The Lemon Twigs, who incited a varied crowd of all age groups into a venue packed with enthusiasm.  You can read all about our experience below with our review of the show and some stellar photos from our man, Jake Giles Netter.
As I walked into Mercy Lounge, I realized how long it has been since I have ascended the steps, and walked nostalgically through a half full, pre-show room to grab a beer. It is a journey I used to make two or three times a week, but alas time and work have seemingly cramped my once carefree style.  Nashville is Music City, but it was a different scene when this little rag started over five years ago.  This is a show that I feel like would have had lack luster attendance back then, and would have likely been tucked into a smaller venue, particularly on a weeknight.  Times have changed since 2011, and it's been fun to watch that happen.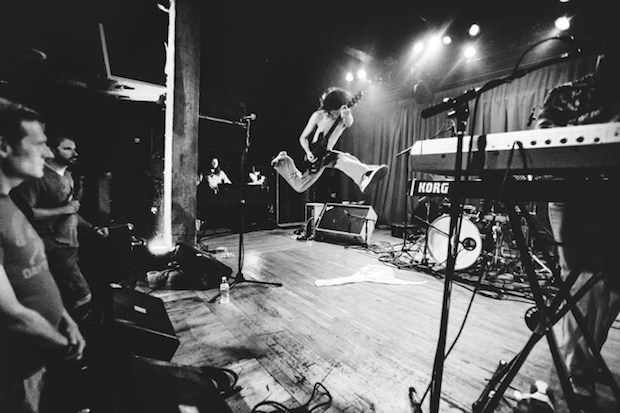 The Lemon Twigs. Photo by Jake Giles Netter.
Running about 20 minutes late for their scheduled start time, the D'Addario brothers, in their trademark hip hugging bellbottoms and crop top shirts, were scampering around to gather the band to start the show. On the first beats, the sound was a little awkward, and the brothers seemed almost a little timid, but they pushed through, receiving a powerful applause from an über engaged audience. This seemed to loosen the touring four piece up as they tore through retro laced pop tracks that were run through the Queen filter, channeling Freddy in both looks and power (perhaps minus those shrilling falsettos). In some songs, they created a powerful rock sound designed for an arena, while others felt like we were watching a totally fucked up Julian Casablancas howling through his first take of a baroque pop track.  Needless to say, it was entertaining, and, given the brothers are ages 17 & 19, it's safe to say that a long road could lie ahead.
Car Seat Headrest. Photo by Jake Giles Netter.
After catching up with old friends during the break, there was no doubt when Will Toledo first stepped on the stage with only an electric guitar to perform "Way Down" solo to a rapt and totally subdued audience for a seeming eternity. His band joined him to take the set to their trademark second level, tearing into "Cosmic Hero" while dabbling in some bars of The Velvet Underground's "Sweet Jane." After this well received warm up, they smashed the pedal to the floor with a back to back raucous performances of hits "Joe Goes To School" and "Fill In The Blank," and then things got really serious and serene with a beautiful cover of David Bowie's "Blackstar."  They finally wrapped, what can only be considered an emotional roller coaster of a set, with "Destroyed By Hippie Powers" and the 12-minute Teens Of Denial dreamer "The Ballad Of Costa Concordia."
As things settled down for an obvious encore, I chatted with a few folks around me about how the music of Car Seat Headrest fit into the modern music landscape.  It was argued that he was Elliot Smith of this generation, and others claimed he was the savior of indie rock in a world that is dominated by emo and autotune.  One thing is for certain, Will Toledo, who got his band name because he used to record vocals in the backseat of a car performing only for the car seat headrest, has certainly started a conversation, and, based on the size and energy of the crowd at Mercy Lounge, he is succeeding in getting his message across.
When Car Seat Headrest returned to the stage to a roaring applause, they wasted little time in ripping into a cover of Frank Ocean's "Ivy" before finishing the night out with "Unforgiving Girl (She's Not An)."  I found it a little surprising that he didn't perform his first single from Teens Of Denial, "Drunk Driver/Killer Whales," which first made me pay attention to this label backed version of Car Seat Headrest, but perhaps that is telling of his extensive catalogue and growing following.  I'm sure there will be a next time to hear it, and can only imagine that the venues will continue to grow for this talented songwriter.