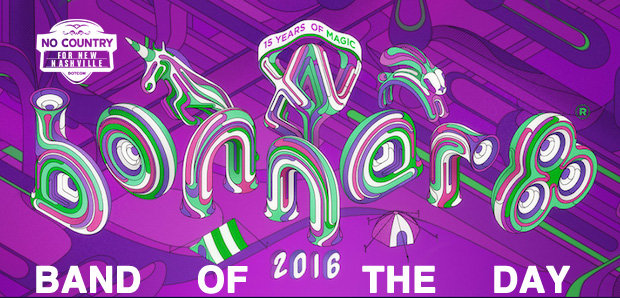 Bonnaroo Artist | Andrew Combs
Bonnaroo History | Newbie
Stage & Time | Friday | New Music on Tap Lounge | 7:15 p.m.
As we've been doing for the past several years now, we're making it our mission to help you get acquainted with as many bands as we can from Bonnaroo's impressive 2016 lineup. In addition to the main stage acts, we also want to be sure to give the Club Stage bands some love, so, for the remainder of our coverage, we'll be doubling up with a second daily spotlight. They might be the smallest artists on Bonnaroo's bill, but the Club Stage boasts some of the best and most exciting up and coming acts around. As with our main stage previews, we'll start from the bottom and work our way up. Keep reading for your Bonnaroo Club Stage Band of the Day…
LEARN
Texas native Andrew Combs is a self-professed "country soul" singer-songwriter who now calls Nashville home. In 2012, he released his debut album Worried Man, which was celebrated by many media outlets as one of the best releases of the year. The record gave listeners only a first glimpse into his incredible talents as a storyteller and musical craftsman. His first album came out at a time when Americana was beginning to become the "it" genre, thanks to acts like The Lumineers and Mumford and Sons. Still, Combs' music stood on its own because of its authentic mixture of pedal steel, gritty electric guitars and his always powerful vocals. 
Combs' sophomore album, All These Dreams, was released last year to widespread praise. In just a few years, he perfected the ability to create an immersive soundscape that takes you through the highest highs and darkest lows. The influence of greats like Guy Clark and Merle Haggard is easy to hear through tracks like the beautifully reflective "Slow Road to Jesus" and "Suwannee County." That emotion especially comes through during his incredible live performances, so make sure you stop by the New Music on Tap Lounge on Friday evening to soak up his soulful and immersive set.
LISTEN | "Foolin'"
WATCH | "Nothing to Lose" (Official Video)
CONNECT
More from Andrew Combs | Site | Facebook | Twitter | Spotify
More from Bonnaroo | Tickets | Lineup | Site | Facebook | Twitter