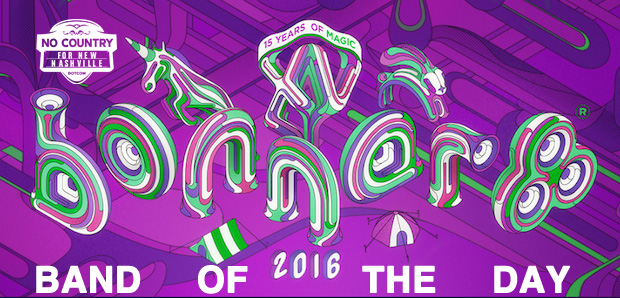 As we've been doing for the past several years now, we're making it our mission to help you get acquainted with as many bands as we can from Bonnaroo's impressive 2016 lineup.  We started from the bottom and have been working our way up, paying special attention to the smaller and lesser known acts on this year's bill with daily, dedicated Bonnaroo Band of the Day, Bonnaroo Club Stage Band of the Day, and even Bonnaroo Comedian of the Day posts. As we near the home stretch, we'll be finishing up the last 25 main stage performers in compilation-style roundups, since they're big names you're more likely to know. Keep reading for part three of your Bonnaroo Main Stage Roundup…
HALSEY

Friday | Which Stage | 7:45 p.m.
Born and raised in New Jersey, Ashley Frangipane, better known by her stage name Halsey, only began writing songs a few short years ago, but, discovering a natural knack for her craft, has managed to find massive and widespread attention seemingly overnight, climbing the ranks to electropop stardom thinks to hits like "New Americana," "Ghost," and "Castle." What began as hobby, posting covers on YouTube, quickly morphed into a career, after early original material caught the ear of label Astralwerks, and led the young singer's debut EP, Room 93, in 2014. Hasley's first full-length, a pseudo-sci-fi concept album, Badlands, followed last summer, and has since helped make her the buzziest young synthpop singer to emerge since Lorde.
Only 21, Hasley's rise has been marked by appearances on The Late Show with Stephen Colbert and Last Call with Carson Daly, tours with The Kooks, Imagine Dragons, The Weeknd, and Young Rising Sons, celebrated appearances at festival like SXSW, and an endless array of critical praise. Stylish and brooding, her music is an electronic drenched, conceptual snapshot of modern youth culture, and her engaging performance style and showmanship has made her live show a hot ticket. One of the highest billed young performers on this year's Bonnaroo bill, Halsey is the real deal, not just a flash in the pan, and we predict that her pop dominance will only grow in years to come. [PO]
LISTEN | "Gasoline"
WATCH | "New Americana" (Official Video)
CONNECT | Site | Facebook | Twitter | Spotify
_
WEEN
Sunday | Which Stage | 7 p.m.
After a brief hiatus, Ween is back on the road for a reunion tour this year, and return to celebrate the 15th anniversary as one of the only performers this year to have performed at the very first Bonnaroo in 2002.  Beloved in an almost cultish way, Ween have been lauded for the eclectic sound which veers wildly between genres like country, R&B, funk, soul, prog, punk, and more.  Their playful songwriting sets them apart even further with tracks like "Bananas And Blow" and "Your Party" veering somewhere between Jimmy Buffett ideaology and Flaming Lips execution.  Tracks like "Push th' Little Daisies" and "Voodoo Lady" might have put Ween on the map in the early '90s, much of their catalogue, particularly "Ocean Man," has found placements in movies and TV shows.
If you are looking to regale in an extensive catalogue from one of the most unique rock bands in history, you should find yourself right at home with their Which Stage finale on Sunday.  Head below to get reacquainted. [MH]
LISTEN | "Ocean Man"
WATCH | "Voodoo Lady" (Official Video)
CONNECT | Site | Facebook | Twitter | Spotify
_
JASON ISBELL
Sunday | What Stage | 4 p.m.
Hailing from Northern Alabama but now based in Nashville, singer-songwriter Jason Isbell has emerged as one of the most gifted and important figures in the modern Americana and country landscape, who, alongside artists such as Sturgill Simpson, Chris Stapleton, Justin Townes Earle, and more, has helped reinvigorate and breathe new life and substance into the scene at a mainstream level. Raised in the small town of Green Hill, Alabama, not far from the legendary Muscle Shoals area, Isbell was exposed to music constantly at a young age, branching out into performing with bands sitting in at shows by his teens, and ultimately joining Georgia alt country band the Drive-By Truckers in his early 20s. After six years and three successful albums with the group, Jason spilt in 2007 to go solo, heading home to Muscle Shoals to recruit some skilled players who would become his backing band, The 400 Unit.
A string of solo LPs showcased his promising songwriting skill, merging southern rock with alt-country, Americana, and classic country flair, and earning Isbell tours with artists like Ryan Adams, but it wasn't until 2013's Southeastern, Jason's first release after getting sober, and first pairing with producer David Cobb, that he really struck a chord with a wider audience, winning over the hearts of not only the country world, but the general public at large. Landing on countless end of year lists and met with critical praise, Southeastern swept at the annual Americana Awards, and earned props from big names like Bruce Springsteen and John Prine. Now a certifiable breakout performer, Isbell has seen his rise in television and festival appearances, and commercial and critical success carry over into his latest and fifth solo release, last year's Something More Than Free. Undoubtedly the most high-profile local act on the Bonnaroo lineup this year, the festival serves as not only a chance to catch one of Nashville's finest, but a way to finally see him if you missed out on his numerous, quick-to-sell-out Ryman outings in recent years. [PO]
LISTEN | "Cover Me Up"
WATCH | "24 Frames" (Lyric Video)
CONNECT | Site | Facebook | Twitter | Spotify
_
CHVRCHES
Friday | What Stage | 6:45 p.m.
Scottish synthpop trio CHVRCHES sprung to worldwide acclaim after the release of their 2013 debut, The Bones of What You Believe, and have continued to enchant and captivate with their latest, last year's Leave a Trace. Formed in 2011, the group are made up of synth players/producers/multi-instrumentalists Iain Cook and Martin Doherty, friends and active members of the Scottish music scene for many years, and vocalist/occasional synth player Lauren Mayberry, who performed in various bands before studying law and journalism, ultimately spending time as a writer before forming CHVRCHES.
Fiercely self-sufficient, the band write, record, and produce all of their own material, building buzz after a self-released series of early singles, ultimately landing them on Glassnote Records by their debut EP, Recover, and subsequent full-lengths. Embraced by the blogosphere ahead of their debut, CHVRCHES' textured, synth-laden, and pop accessible sound has helped them find endless mainstream appeal, earning hits on alternative radio, scoring film and TV placements, appearing on several light night shows, and becoming fixtures of the festival circuit, beloved by electronic and pop fans alike. Their live show is honed and engaging, and has only gotten bigger and better since the band's breakthrough success. CHVRCHES return to Bonnaroo this year bigger than they've ever been, and we're already expecting this summer's performance to be one of the standout moments of the weekend. [PO]
LISTEN | "Leave a Trace"
WATCH | "The Mother We Share" (Official Video)
CONNECT | Site | Facebook | Twitter | Spotify
_
MIGUEL
Saturday | That Tent | 12 a.m.
Continuing a strong trend in this year's Roo, Miguel is at the top of the next wave of R&B that has been sweeping the musical universe of late, along with artists like Drake, Frank Ocean, and The Weeknd.  However, he has taken a slightly different approach, incorporating elements of rock and funk, more in line with Prince. Miguel's journey began at the young age of 13, and he signed his first production deal before he could drive.  His first formal record deal came before he turned 20, but didn't find mainstream success until he signed with Jive Records, which was later merged into RCA Records.  With the promotional power of the major label, his 2010 debut release All I Want Is You became a sleeper hit, and, with his 2012 follow up Kaliedoscope Dream, the honors, nominations, and awards started to roll in.
Miguel seems to be really dialed into his sound with the release of Wildheart in 2015, separating himself from others in the genre by creating a sound that is truly unique and eclectic.  His self described "fly, funkadelic, intergalactic, hip-hop meets sexy, orgasmic, crazy, dope shit" may not be for everyone, but, if you are looking to immerse yourself in the rising neo R&B scene at Roo this year, Miguel is a perfect place to start.  [MH]
LISTEN | "Coffee"
WATCH | "Adorn" (Official Video)
CONNECT | Site | Facebook | Twitter | Spotify
_
[MH] Matt Hall
[PO] Philip Obenschain
More from Bonnaroo | Tickets | Lineup | Site | Facebook | Twitter