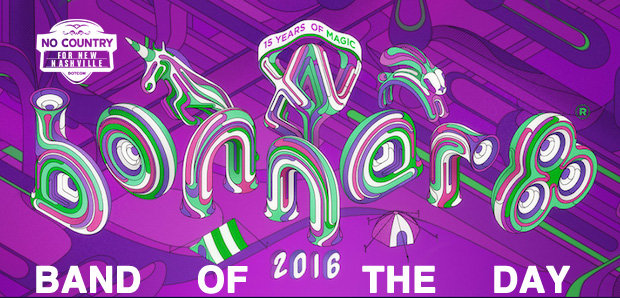 Bonnaroo Artist | Aubrie Sellers
Bonnaroo History | Newbie
Stage & Time | Friday | Who Stage | 3:45 p.m.
As we've been doing for the past several years now, we're making it our mission to help you get acquainted with as many bands as we can from Bonnaroo's impressive 2016 lineup. In addition to the main stage acts, we also want to be sure to give the Club Stage bands some love, so, for the remainder of our coverage, we'll be doubling up with a second daily spotlight. They might be the smallest artists on Bonnaroo's bill, but the Club Stage boasts some of the best and most exciting up and coming acts around. As with our main stage previews, we'll start from the bottom and work our way up. Keep reading for your Bonnaroo Club Stage Band of the Day…
LEARN
There are few artists as unique and driven as Aubrie Sellers in country music today. The daughter of Lee Ann Womack and acclaimed songwriter Jason Sellers, the burgeoning artist comes from a background of incredible talent. Still, she's made it clear that she has no intentions of becoming a cookie-cutter clone of her famous mother. Instead, she's found her own sound, which she lovingly calls "garage country."
On her debut LP, New City Blues, Sellers highlights her incredible songwriting skills, as well as her impressive ability to craft a mixture of alt-rock and traditional country that blends together flawlessly. By stripping away any acoustic instruments, Sellers lets her fuzzy electric guitar and pure vocals move to the forefront. From the sassy and determined "Sit Down and Cry" to the moving "Something Special," Sellers confronts all of the emotional ups and downs that come about in your early 20s. Still, it's a record so well crafted that listeners of all ages can instantly connect with the honesty and fearlessness that's featured in every track. Each of those songs sound even better on the live stage, so make sure you check her out when she makes her Bonnaroo debut this year.
LISTEN | "Something Special"
WATCH | "Sit Here and Cry" (Official Video)
CONNECT
More from Aubrie Sellers | Site | Facebook | Twitter | Spotify
More from Bonnaroo | Tickets | Lineup | Site | Facebook | Twitter