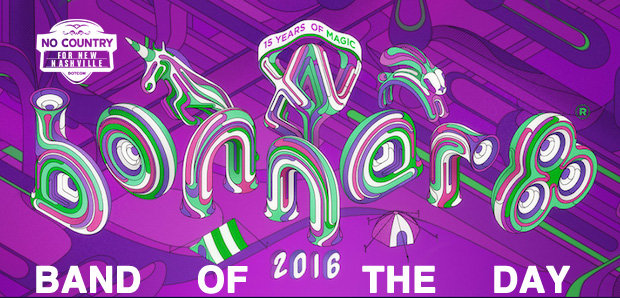 Bonnaroo Artist | firekid
Bonnaroo History | Newbie
Stage & Time | Friday | New Music On Tap Lounge | 2 p.m.
As we've been doing for the past several years now, we're making it our mission to help you get acquainted with as many bands as we can from Bonnaroo's impressive 2016 lineup. In addition to the main stage acts, we also want to be sure to give the Club Stage bands some love, so, for the remainder of our coverage, we'll be doubling up with a second daily spotlight. They might be the smallest artists on Bonnaroo's bill, but the Club Stage boasts some of the best and most exciting up and coming acts around. As with our main stage previews, we'll start from the bottom and work our way up. Keep reading for your Bonnaroo Club Stage Band of the Day…
LEARN
The musical vehicle of accomplished young artist Dillon Hodges, Nashville-based, Muscle Shoals, Alabama born firekid is coming off of a huge year, fueled by the buzz surrounding his fantastic, self-titled debut album. Notably the second youngest person to ever win the National Flat Pick Guitar Championship while still in high school, Hodges grew up obsessed with bluegrass, frequently taking trips to regional festivals and to Nashville with his parents to watch and sit in on performances at local haunts like The Station Inn. Something of a musical phenom, Dylan played in various bluegrass-geared projects throughout his teens and college years, eventually flirting with the idea of going solo before rebranding himself as firekid.
Hodges credits Kanye West for helping push his musical appreciation to broader realms, and, most importantly, cites an attempted cover of Gorillaz, merging acoustic instruments with electronic beats, for inspiring the template that would shape his current musical direction. Blurring the lines between country, indie, folk, bluegrass, and southern rock, laced with an ear for pop, hip hop, and electronic sensibilities, firekid defies genre conventions, and has found crossover success with hits like "Magic Mountain," 'Die for Alabama," and "Movin' On." Still very connected to Muscle Shoals, Dylan often returns home to create new art, notably recording his full-length in Alabama under the production guidance of Sam Hollander, best associated with big name pop acts like One Direction, Train, All Time Low, and Katy Perry. Impressively, firekid signed to Atlantic Records with only a handful of tracks to his name, which has special significance given the label's ties to the Muscle Shoals scene. We chatted with Dylan at length on our No Country Podcast last year, so if you want to hear more about his story and musical approach, listen right here.
LISTEN | "Die for Alabama" 
WATCH | "Magic Mountain" (Official Video)
CONNECT
More from firekid | Site | Facebook | Twitter | Spotify
More from Bonnaroo | Tickets | Lineup | Site | Facebook | Twitter