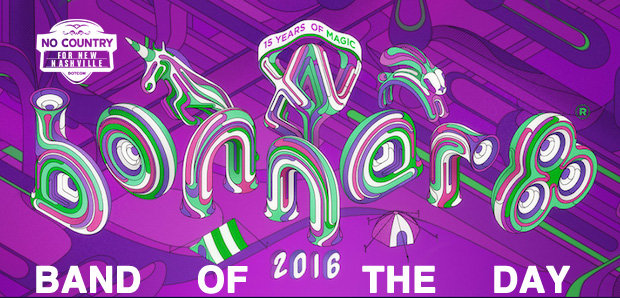 Bonnaroo Artist | Ron Gallo
Bonnaroo History | Newbie
Stage & Time | Saturday | New Music on Tap Lounge | 9:30 p.m.
As we've been doing for the past several years now, we're making it our mission to help you get acquainted with as many bands as we can from Bonnaroo's impressive 2016 lineup. In addition to the main stage acts, we also want to be sure to give the Club Stage bands some love, so, for the remainder of our coverage, we'll be doubling up with a second daily spotlight. They might be the smallest artists on Bonnaroo's bill, but the Club Stage boasts some of the best and most exciting up and coming acts around. As with our main stage previews, we'll start from the bottom and work our way up. Keep reading for your Bonnaroo Club Stage Band of the Day…
LEARN
In recent years, Nashville has seen a huge insurgence of new bands and artists coming to town, especially over on the east side. One of those fierce and buzzworthy songwriters is Ron Gallo, who made the move to Music City from Philadelphia last fall. Gallo was the frontman of the popular Philly band Toy Soldiers, who were very active in the beginning of the decade, and played songs that took the spirit of country music and embellished it with a punk rock flavor. The group spent a lot of time touring with Joe Fletcher, opening for the popular Rhode Island group Deer Tick, and even found themselves playing a few late night slots at the Newport Folk Festival in 2013.
After Toy Soldiers disbanded in 2014, Gallo found himself with a burgeoning solo career. Later that year, he released Ronny, a collection of eleven witty songs with an overall toned back mystique compared to what he was previously known for in Toy Soldiers. This year, he released the RG3 EP, marking a definitive change for him stylistically and emotionally. On this release, Gallo has stripped down to the bare essentials (guitar, bass, and drums), but the songwriting is no less aggressive and powerful. Take for instance the first track "Young Lady, You're Scaring Me," a guitar driven rock track that puts Gallo in the limelight as an evolving songwriter who has easily found his element here in Music City. Do the right thing and be front and center for what is sure to be one of the best down-bill sets of Bonnaroo this year.
LISTEN | "Young Lady You're Scaring Me"
WATCH | "All Of The Punks Are Domesticated" (Live At The Family Wash)
CONNECT
More from Ron Gallo | Site | Facebook | Twitter | Spotify
More from Bonnaroo | Tickets | Lineup | Site | Facebook | Twitter