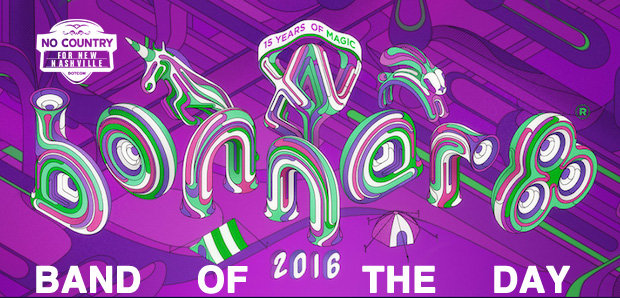 Bonnaroo Artist | Grandma Sparrow
Bonnaroo History | Newbie
Stage & Time | Saturday | New Music On Tap Lounge | 6:15 p.m.
As we've been doing for the past several years now, we're making it our mission to help you get acquainted with as many bands as we can from Bonnaroo's impressive 2016 lineup. In addition to the main stage acts, we also want to be sure to give the Club Stage bands some love, so, for the remainder of our coverage, we'll be doubling up with a second daily spotlight. They might be the smallest artists on Bonnaroo's bill, but the Club Stage boasts some of the best and most exciting up and coming acts around. As with our main stage previews, we'll start from the bottom and work our way up. Keep reading for your Bonnaroo Club Stage Band of the Day…
LEARN
Self-described as "a psychedelic children's song-cycle for adults," Grandma Sparrow is the side project/alter ego of Joe Westerlund, best known for playing drums in Megafaun (a group which once counted Bon Iver's Justin Vernon amongst its ranks). Also known for his work in Califone, Gayngs, and Mount Moriah, Westerlund is much more than just a percussionist, having studied composition and improvisation in college, and frequently exploring collaborative ventures in the realms of avant-garde, jazz, experimental, folk, and classical music, often with a minimalist approach.
Grandma Sparrow, and the project's debut LP, Grandma Sparrow & his Piddletractor Orchestra, seems to have long been gestating in Joe's imagination, but finally materialized when, a couple years ago, he was approached by longtime friend Matthew E. White, to collaborate on a project for his Spacebomb Records label (also the label home of Natalie Prass). Incorporating experimental studio techniques, strings, horns, and Spacebomb's own house band, the result is a unique, weird, eclectic, psyched-out journey that definitely feels like it could be for kids, but also rivals in concept and imagination releases from groups like the Flaming Lips or Frank Zappa, chock-full of harmonies, conceptual narrative, characters, and some really enthralling songs. One of the most unique performers on this year's Bonnaroo bill, Granda Sparrow's Club Stage appearance is sure to be one of the weekend's biggest highlights if you can manage to catch it!
LISTEN | "This Is My Wheelhouse" 
WATCH | "Existential Mothersnakes" (Official Video)
CONNECT
More from Grandma Sparrow | Site | Facebook | Twitter | Spotify
More from Bonnaroo | Tickets | Lineup | Site | Facebook | Twitter