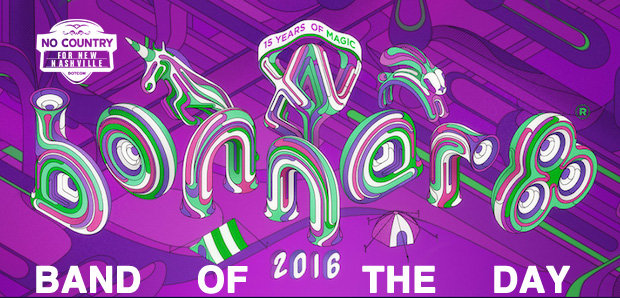 Bonnaroo Artist | Joe Hertler & The Rainbow Seekers
Bonnaroo History | Newbie
Stage & Time | Saturday | On Tap Lounge | 1 p.m.
As we've been doing for the past several years now, we're making it our mission to help you get acquainted with as many bands as we can from Bonnaroo's impressive 2016 lineup. In addition to the main stage acts, we also want to be sure to give the Club Stage bands some love, so, for the remainder of our coverage, we'll be doubling up with a second daily spotlight. They might be the smallest artists on Bonnaroo's bill, but the Club Stage boasts some of the best and most exciting up and coming acts around. As with our main stage previews, we'll start from the bottom and work our way up. Keep reading for your Bonnaroo Club Stage Band of the Day…
LEARN
Splicing genres with ease, the infectious grooves of bands like Joe Hertler & The Rainbow Seekers typically play very, very well at festivals like Bonnaroo. Soul, funk, R&B, folk, and Americana are all represented in their sound, which pulls in you from the first note, and makes you shake your booty until the very last. Boasting seven musicians on stage, including sax and violin players, it's safe to say they have a big sound, like big bands of yesteryear. However, based on their stage personas, they're less like a swing band, and more like Edward Sharpe and the Magnetic Zeros … with a bit more schtick, and less of the taking themselves too seriously.
With two records under their belts already (On Being and their most recent, Terra Incognita) plus Joe Hertler's solo catalog, they already have a lot of great songs to choose from, but we're hoping for their Bonnaroo debut that they'll throw in some special covers or just extend their jams until everyone is worked into a total tizzy. "The whole purpose of this band is the live show," Hertler has said, so we're betting they won't disappoint. Start to get familiar with their stuff, and don't miss a second of their set, because based on the live footage we watched, The Rainbow Seekers plan on funking you upside yo head on The Farm.
LISTEN | "Future Talk"
WATCH | "The Garden" (Official Video)
CONNECT
More from Joe Hertler & The Rainbow Seekers
Site | Facebook | Twitter | Spotify
More from Bonnaroo | Tickets | Lineup | Site | Facebook | Twitter