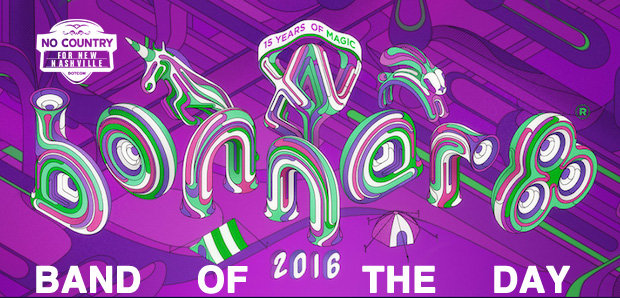 Bonnaroo Artist | Korey Dane
Bonnaroo History | Newbie
Stage & Time | Sunday | On Tap Lounge | 3 p.m.
As we've been doing for the past several years now, we're making it our mission to help you get acquainted with as many bands as we can from Bonnaroo's impressive 2016 lineup. In addition to the main stage acts, we also want to be sure to give the Club Stage bands some love, so, for the remainder of our coverage, we'll be doubling up with a second daily spotlight. They might be the smallest artists on Bonnaroo's bill, but the Club Stage boasts some of the best and most exciting up and coming acts around. As with our main stage previews, we'll start from the bottom and work our way up. Keep reading for your Bonnaroo Club Stage Band of the Day…
LEARN
Invoking some pretty lofty comparisons to legends in the singer songwriter's game like Tom Waits, Joni Mitchell, The Beatles and Bob Dylan, Korey Dane seems like he may have "it" … whatever "it" is exactly. Born in Southern California to a mechanic father and an English teaching mother, Dane traveled around a bit with his family before they settled in Los Alamitos, near Long Beach. He first picked up the guitar at the age of fifteen. In his twenties he partnered with another singer songwriter, Tess Shapiro, and together they released two DIY records together, For the Kite Flyers and Loomer, which were well received by the indie folk community. Loomer was recorded in 2010 with studio time Dane won in an acoustic musical competition called Buskerfest, which was part of the Long Beach Summer and Music concert series that year.
After heading their separate ways, Dane started to put in work on some solo stuff, with the help of some like-minded friends, and, in 2015, he released Youngblood on LA based label Innovative Leisure Records. The album has some of the murky, acoustic atmosphere that defines his earlier work, but also shows that he's been working with people that seem to fit a little bit better with his evolving style. The impressive solo debut highlights the artist just as he is; coming into his own creative sense of self. His throaty croon and ability to write literary songs with pace make Korey a poet for the new age. Catch his set Sunday afternoon, and chill out to one of the best up and coming folk troubadours on this year's bill.
LISTEN | "Jules Verne"
WATCH | "Let It Be Just for Fun" (Official Video)
CONNECT
More from Korey Dane | Site | Facebook | Twitter | Spotify
More from Bonnaroo | Tickets | Lineup | Site | Facebook | Twitter