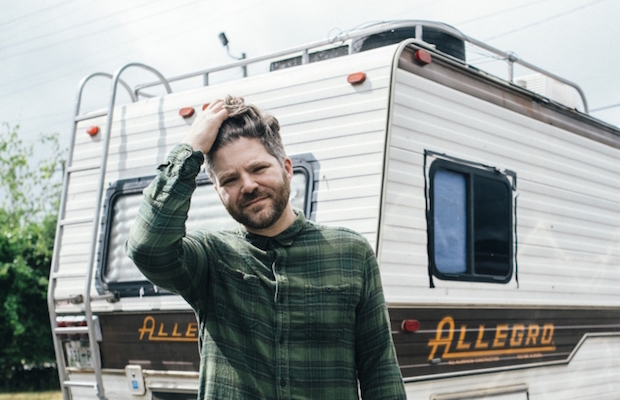 The Whistles & The Bells, the local, eclectic musical vehicle of former Cadillac Sky frontman Bryan Simpson, who we've been buzzing about for a couple years now, are currently hard at work on a followup to their self-titled 2014 debut. However, that doesn't mean they can't make time for a local show! Following a busy run of Nashville dates earlier this year, the project is set to play Mercy Lounge on May 27, and tickets are still available right here. Or, if you're feeling lucky you can also enter for a chance to win a pair of tickets to the upcoming show! Read on for details and enter below.
THE WHISTLES & THE BELLS
The new musical vehicle, and, by extension, personal journey of former Cadillac Sky frontman and multi-instrumentalist Bryan Simpson, Nashville's The Whistles & The Bells is a project that has piqued our interest from day one. Simpson's departure from his former band, who were beginning to build a cult following and who had worked under the production guidance of Dan Auerbach, mid tour, a tour wth Mumford and Sons no less, certainly left fans scratching their heads. However, it wasn't so abrupt for Simpson himself, who had recently converted to Christianity and found himself being pulled down a different path. Some soul searching and reflection led Bryan to craft what would become The Whistles & The Bells, and he released a self-titled, full-length debut, produced by Vance Powell and recorded in just two days with the help of some talented friends and associates, in early 2014. Hard to pin down, The Whistles & The Bells combine elements of americana, folk, rock, blues, and more; a distinct, personal sound characterized by themes of faith and searching. Currently hard at work on a second album, we definitely wouldn't be surprised to see some new Whistles & Bells material make its live debut at this show!
_
ENTER TO WIN TICKETS
Enter to win tickets by filling out the form below. Must be 18+ to attend, per the show's age restrictions. After you have entered, there will be the option to share this contest via social media. For each person that you refer to the contest, you will receive an additional entry. If you experience any trouble with the contest widget, or have any questions, feel free to email us at [email protected].
Winner will be announced Wednesday, May 25 at 6 p.m. CST, and will receive one pair of tickets. Good luck!
[contesthopper contest="73927″]
 _
The Whistles & The Bells will perform Friday, May 27 at Mercy Lounge. The show is 18+, begins at 9 p.m. (doors at 8 p.m.), and tickets are available to purchase for $10.