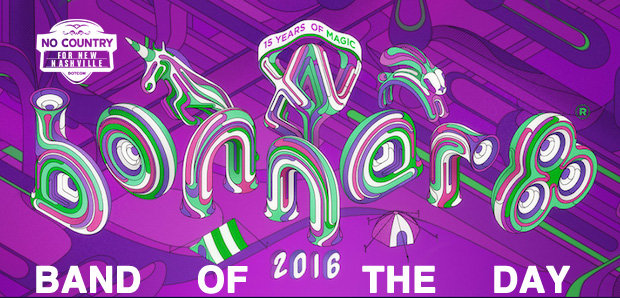 Bonnaroo Artist | Third Eye Blind
Bonnaroo History | Newbie
Stage & Time | Sunday | The Other Tent | 6:45 p.m.
As we've been doing for the past several years now, we're making it our mission to help you get acquainted with as many bands as we can from Bonnaroo's impressive 2016 lineup.  We'll start from the bottom and work our way up, paying special attention to the smaller and lesser known acts on this year's bill. Keep reading for your Bonnaroo Band of the Day…
LEARN
Famed '90s alt rock act Third Eye Blind might best be known for their massive, breakout, self-titled 1997 debut LP, but, unlike many of their peers of that era, the group have never faded away, continuing to tour and release music going on more than two decades now. Formed in San Francisco in 1993 by frontman Stephan Jenkins and ex-guitrist Kevin Cadogan, the band found themselves the subject of quite a bit of buzz after only a handful of early demos and high-profile performances, igniting a bidding war that would land them on Elektra Records for their debut, which has since been certified six times platinum. Thanks to huge hits like "Semi-Charmed Life," "Jumper," and "How It's Going to Be," the band became a radio staple and international phenomenon, their success extending to sophomore effort Blue. By the '00s, the group entered a period of lineup shuffles (Cadogan notoriously was booted on bad terms, as was his subsequent replacement, Tony Fredianelli, a decade later), still managing to tour and release three more strong albums, albeit with longer breaks and periods of dormancy in between.
Regarded as a band with stronger songwriting chops and more timeless pop sensibilities than many radio artists of their era, thanks largely to Jenkins, Third Eye Blind have found their sound able to adapt with the times, most recently culminating with surprisingly pleasant fifth album Dopamine, a callback to their early '00s sensibilities. Seemingly uninterested in cashing in on pure nostalgia, the group don't deny fans of their early work a classic 3EB fix, but, in turn, seem squarely fixated on looking ahead, constantly pushing their musical direction to new relevance. 3EB are expected to release a new EP sometime this year, and their Bonnaroo set is sure to be a perfect balance between old and new. Rally at the end of your weekend, and catch this new modern classic!
LISTEN | "Everything Is Easy"
WATCH | "Semi-Charmed Life" (Official Video)
CONNECT
More from Third Eye Blind | Site | Facebook | Twitter | Spotify
More from Bonnaroo | Tickets | Lineup | Site | Facebook | Twitter