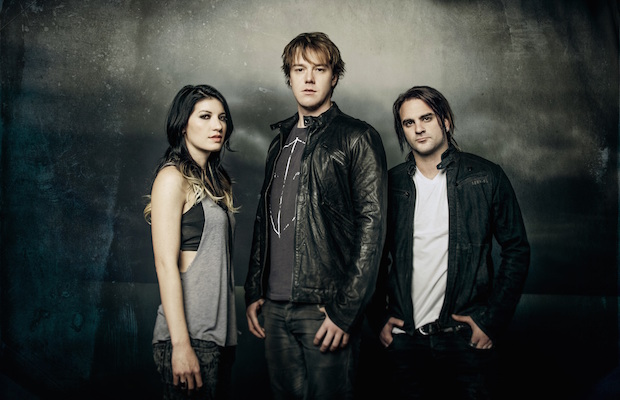 Aussie alternative rockers Sick Puppies are locked, loaded, and prepared to shred as the headliners of the "HardDRIVE Live 2016" tour at Exit/In later this month, on May 18. The massive bill will also feature similar flavored performers Red Sun Rising, Stitched Up Heart, and Hudson. Music for the 18+ gig starts at 7:30 pm (doors at 6:30), and you get all this tunage for just $17-$20, but if you're feeling like luck is on your side, you can enter to win a pair of tickets after the jump. While you're here, read on for more info on the bands too, and we look forward to seeing you at the show.
SICK PUPPIES
Formed in the late '90s in New South Wales, Australia, Sick Puppies' sound is a unique mixture of a little nu metal and hard alt rock, birthed in the post-grunge alternative era. They're also not afraid to mellow it out with acoustic songs. After a self-released debut EP, the group followed up in 2001 with their debut full-length, Welcome to the Real World, on indie label Transistor Music. However, they truly rose to new heights in 2006, when their song "All the Same" was featured in original YouTube video for the Free Hugs Campaign, which has now been viewed well over 75 million times. A few years and a couple records later, including their latest, Fury, which dropped this year, the puppies are sick as ever, and ready to rock out in Music City.
RED SUN RISING 
A hard rocking five-piece, birthed in Akron, Ohio (the land of DEVO and The Black Keys) Red Sun Rising are a band whose star is also on the rise. Their debut record, Polyester Zeal, has rocked audiences coast to coast, and after touring for some time, word is they've perfected their live show. Get a taste of what you can expect below, and make sure you catch their whole set later this month when they roll into Nashville as part of HardDRIVE Live 2016.
STITCHED UP HEART 
Built for fans of alternative mixed with a little bit of the macabre, Hollywood based four-piece Stitched Up Heart is just what the doctor ordered, if you're always looking for the next "it" band in the genre. Poised to release a new LP, Never Alone, June 17, we look forward to hearing new material live from a up-and-coming band that we think everyone needs in their life.
HUDSON 
With a vast list of self-proclaimed influences including Nirvana, Pink Floyd, The Beach Boys, and Johnny Cash (to name a few), we look forward to seeing what LA rockers Hudson have to offer live. They're relatively new on the scene, so there isn't a ton of material to check out just yet, but what we've heard, we like. So we'll be sure to be at Exit/In on time for their performance, and you should too!

_
ENTER TO WIN TICKETS
Enter to win tickets by filling out the form below. Must be 18+ to attend, per the show's age restrictions. After you have entered, there will be the option to share this contest via social media. For each person that you refer to the contest, you will receive an additional entry. If you experience any trouble with the contest widget, or have any questions, feel free to email us at [email protected].
Winner will be announced Monday, May 16 at 12 p.m. CDT, and will receive one pair of tickets. Good luck!
[contesthopper contest="73778″]
_
Sick Puppies, Red Sun Rising, Stitched Up Heart, and Hudson will perform Wednesday, May 18 at Exit/In. The show is 18+, begins at at 7:30 p.m. (doors at 6:30 p.m.), and tickets are available for $17-$20.