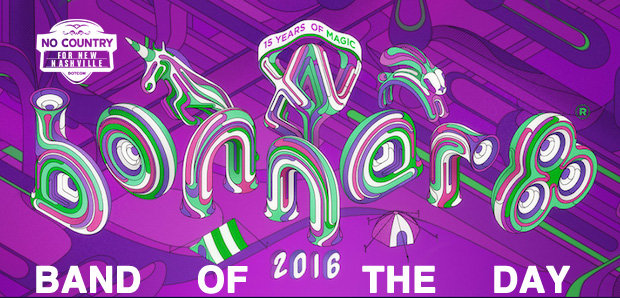 Bonnaroo Artist | Clutch
Bonnaroo History | 2007, 2010
Stage & Time | Saturday | The Other Tent | 7:00 p.m.
As we've been doing for the past several years now, we're making it our mission to help you get acquainted with as many bands as we can from Bonnaroo's impressive 2016 lineup.  We'll start from the bottom and work our way up, paying special attention to the smaller and lesser known acts on this year's bill. Keep reading for your Bonnaroo Band of the Day…
LEARN
Over the years, Bonnaroo's lineup has only become more eclectic, and, along with pop, hip hop, electronic, and other genre offerings that have branched from the fest's more jam-friendly and rock roots, hard rock and heavy metal have become an integral part of the annual bill. Big names like Tool and Metallica took top honors at Bonnaroos past, and, more recently, artists like Slayer, GWAR, Alice Cooper, Between the Buried and Me, and Deafheaven have kept the heavy 'Roo scene alive. This summer, for the third time, popular and long standing hard rock/funk metal band Clutch will make an appearance on the farm. The group's origins trace back to 1991, when they met at high school in Frederick, Maryland. Their debut LP, Transnational Speedway League was released only two years later in 1993, but it was their self-titled album that came out in 1995 that really started to bring the band into the public eye, and their extensive touring schedule helped quickly boost their presence. In the studio, Clutch display an ability to bring other influences such as psychedelic rock and blues into the heavy metal sound. Nine albums later, and the group are still going strong with their eleventh record Psychic Warfare, released last year.
Psychic Warfare is immediately becoming known as one of Clutch's best albums to date, continuing their well-oiled mix of blues-tinged stoner rock. The band built on their momentum from the previous album, Earth Rocker, honing in on their songwriting skills to create something that turns up the intensity on rhythm and distortion. The album contains such rockers as "Your Love Is Incarceration," which really pay attention to dynamics and also showcase frontman Neil Fallon's writing abilities. The band are making a statement with this latest release, that they feel better than ever and that they have no intention of slowing down. As they always have, Clutch will be touring heavily throughout the rest of the year with a much anticipated stop on the farm! Don't miss it!
 LISTEN | "Your Love Is Incarceration"
WATCH | "Burning Beard" (Official Video)
CONNECT
More from Clutch | Site | Facebook | Twitter | Spotify 
More from Bonnaroo | Tickets | Lineup | Site | Facebook | Twitter