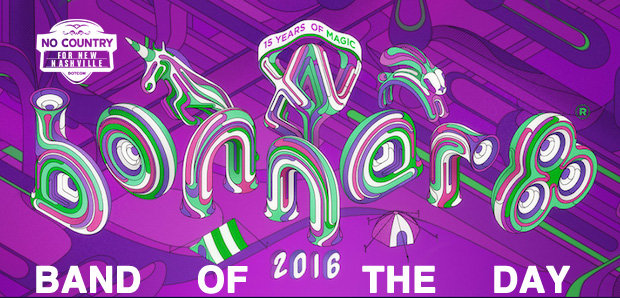 Bonnaroo Artist | Margaret Glaspy
Bonnaroo History | Newbie
Stage & Time | Saturday | Who Stage | 3:15 p.m.
As we've been doing for the past several years now, we're making it our mission to help you get acquainted with as many bands as we can from Bonnaroo's impressive 2016 lineup. In addition to the main stage acts, we also want to be sure to give the Club Stage bands some love, so, for the remainder of our coverage, we'll be doubling up with a second daily spotlight. They might be the smallest artists on Bonnaroo's bill, but the Club Stage boasts some of the best and most exciting up and coming acts around. As with our main stage previews, we'll start from the bottom and work our way up. Keep reading for your Bonnaroo Club Stage Band of the Day…
LEARN
Raised in Red Bluff, California, Margaret Glaspy decided to wander east right after high school. Her skills on fiddle, guitar, and even playing trombone in the marching band earned her some recognition from the YoungArtists program, and she was given enough money for a semester at Berklee College of Music. Unable to afford further schooling despite working odd jobs, Glaspy still managed to sneak into workshops, and sit in on a few masters classes. To further make the most of her time in Boston, she began to hone her songwriting skills while touring with the likes of Ricky Skaggs, Tim O'Brien, and Rachel Yamagata.
Now signed to tastemaking label ATO Records, Glaspy is poised to release her highly anticipated debut record, Emotions and Math, on June 17. Based on what's out there so far, her sound is a cross between Elliot Smith, Joni Mitchell, Pinkerton era Weezer, and a dash of '70s crooner soul. The press is eating her up too: Vice said her riffs are "deceptively heavy," WNYC radio said her folk guitar playing in particular can "send shivers down any spine," and Rolling Stone said her first single "You and I" is full of  "hot barbs of electric guitar." It's obvious Margaret is versatile, and equally apparent is 2016 will probably be a very big year for her. So catch the talented up and comer at a Club Stage now, before you have to fight to the front of a crowd twice the size next year.
LISTEN | "You And I" 
WATCH | "Somebody to Anybody" (Grand Street Session)
CONNECT
More from Margaret Glaspy | Site | Facebook | Twitter | Spotify
More from Bonnaroo | Tickets | Lineup | Site | Facebook | Twitter