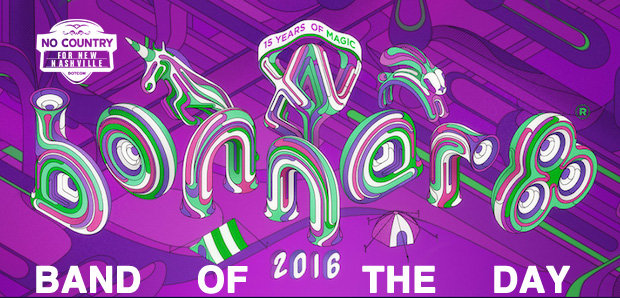 Bonnaroo Artist | Promised Land Sound
Bonnaroo History | Newbie
Stage & Time | Saturday | Who Stage | 9:15 p.m.
As we've been doing for the past several years now, we're making it our mission to help you get acquainted with as many bands as we can from Bonnaroo's impressive 2016 lineup. In addition to the main stage acts, we also want to be sure to give the Club Stage bands some love, so, for the remainder of our coverage, we'll be doubling up with a second daily spotlight. They might be the smallest artists on Bonnaroo's bill, but the Club Stage boasts some of the best and most exciting up and coming acts around. As with our main stage previews, we'll start from the bottom and work our way up. Keep reading for your Bonnaroo Club Stage Band of the Day…
LEARN
Finding its place in a strong list of Nashville locals performing at Bonnaroo is Promised Land Sound. The beginnings of the group date back to 2000 when Joey Scala (bass and vocals) and his brother Evan Scala moved to Nashville from Virginia. They were able to meet Sean Thompson (lead guitar) and immerse themselves within the burgeoning rock and roll scene. They played their parts in a multitude of other notable acts such as Those Darlins and Pujol, before eventually hooking up with Peter Stringer-Hye (rhythm guitar, vocals) from Paperhead and Mitch Jones (keyboards) from Fly Golden Eagle to form the band we know and love today.
Promised Land's debut record in 2013 put them on the map as a band to look out for. But it is last year's For Use and Delight that really solidified them as one of the rising talents in Nashville. The record is an honoring of a conglomeration of influences, demonstrating their young and fresh approach to roots and americana sensibilities, all while kicking the psychedelia up a notch. Their songwriting skills match that of Gram Parsons and The Byrds, and their attention to textures and layers resemble that of The Grateful Dead in their best jams. Check out a few of our favorite tracks from Promised Land below and make sure you get to their set this summer on the farm!
LISTEN | "Otherwordly Pleasures" 
WATCH | "Push and Pull" (Live at Balcony TV)
CONNECT
More from Promised Land Sound | Site | Facebook | Twitter | Spotify
More from Bonnaroo | Tickets | Lineup | Site | Facebook | Twitter