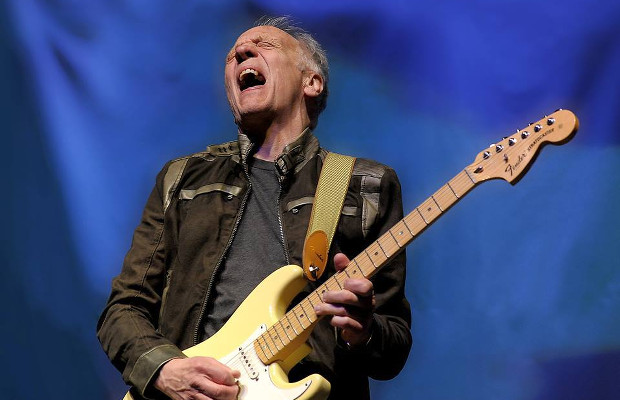 Guitar geeks unite! Classic rock guitarist Robin Trower is in town for a headlining show TONIGHT at Marathon Music Works. You may not know him by name, but Trower is one of the most legendary British blues-rock guitarists in history. Don't believe me? Check out his expansive back catalog of music that begins with rock group Procol Harum to his mind-blowing collaborative works with Roxy Music's Bryan Ferry and Cream's Jack Bruce. If you're a fan of masterful guitar work and great rock music from Trower and rising California rock duo Strange Vine, grab your ticket now for just $25-$45 and click below to learn more about the lineup.
ROBIN TROWER
Nicknamed "The White Hendrix," Robin Trower has been impressing crowds with his mind-blowing guitar skills for decades. He first earned notoriety as a member of rock band Procol Harum, who landed in the history books with their massive hit "A Whiter Shade Of Pale." Both the track and Trower earned new fans years later when it was featured on the beloved video game Guitar Hero. In recent years, he's released a stream of solo works and collaborations, including two albums with Roxy Music's Bryan Ferry. If you want to see a true rock legend at work, you need to be in attendance when Robin Trower and his Stratocaster burn down Marathon Music Works tonight.
STRANGE VINE
Rock duo Strange Vine are comprised of multi-instrumentalists Toby Cordova and Ian Blesse, who hail from Fresno, CA. The pair have been playing together since high school, and boy does it show. From the haunting "Adeline" to the groovy but atmospheric "Bottom of the Hill," their catalog is filled with guitar-powered tracks that will blow you away. Their ability to mesh blues, psych rock, folk and pop elements with ease is seriously impressive, so make sure you get there early to scope them out.
Robin Trower and Strange Vine will perform tonight, April 8 at Marathon Music Works. The show is 18+, begins at 8 p.m. (doors at 7 p.m.), and tickets are available to purchase for $25-45.