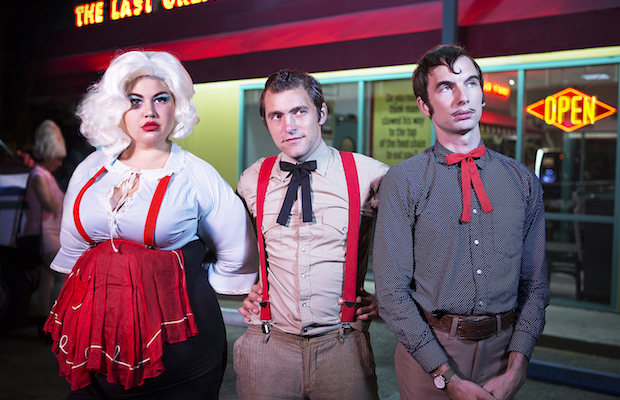 Celebrating the release of their fantastic fourth album, Gone By the Dawn, Bay Area trio Shannon and the Clams are set to pass through Nashville tonight, March 22 for the first time in a few years to perform at Exit/In with Gazebos and Brothers. You may recognize singer  Shannon Shaw from her role in another site fave, Hunx and His Punx, but if you haven't given this project, which combines doo-wop, punk, garage, and indie rock for a melding of sounds and decades of influence a listen, you're sorely missing out. You can still grab tickets to the show right here, and read on below for details.

SHANNON AND THE CLAMS
Hailing from Oakland, California, indie/garage punk trio Shannon and the Clams have forged a loyal following over the last seven years and four full-lengths, through their earnest, eclectic approach to songwriting and energized live presence. Hailing from various pockets of the west coast, the group combine elements of punk, doo-wop, garage rock, and surf, blending elements of '50s and '60s rock and pop with a punch of '80s punk and modern garage rock charm. Smart, hypnotic, and tireless, the group's latest, last year's Gone By the Dawn, bucks lyrical cliches to present a take on relationships and heartbreak from a deeply personal and engaging perspective, and their live show, legendary in the underground rock scene, has helped them quickly become a west coast rock staple. Singer/bassist Shannon Shaw might be recognizable from her role in another great Bay Area band, Hunx and His Punx, but with Shannon and the Clams, she really shines in all her timeless rock frontwoman glory. Get to know this band, if you don't already!
GAZEBOS
Labelmates of Shannon and the Clams on Hardly Art, Seattle's Gazebos are fronted by another Shannon: Shannon Perry. Weird, electro-infused, dance-ready post-punk they've self-proclaimed to be "whoa pop," the group are relatively new to the scene, but the sum of their parts have long been important fixtures of the pacific northwest music scene. The band's brand new debut LP, Die Alone, is already one of the year's best under the radar releases, and we couldn't be more excited to catch them near the start of what's shaping up to be an exciting career from some seasoned punk vets.
Shannon and the Clams, Gazebos, and Brothers will perform tonight, March 22 at Exit/In. The show is 18+, begins at 9 p.m. (doors at 8 p.m.), and tickets are available for $12.