Dropkick Murphys
w/ Tiger Army, Darkbuster
Marathon Music Works; Nashville, TN
March 2, 2016
Review by Philip Obenschain. Photos by Mary-Beth Blankenship.
It seems all at once hard to believe, and yet totally right, that Boston celtic punk heroes Dropkick Murphys are celebrating their 20th anniversary as a band. Hard to believe, because for one, it makes me feel old, as I vividly remember their 10th anniversary, and also because the band only really popped in the punk scene in the early to mid '00s, certifiably becoming a household name thanks to The Departed in '06. But 20 years also seems totally right, as Boston's finest have amassed a huge, impressive catalogue of songs, a two decade-spanning musical and social pedigree, and a legion of lifelong fans in their admirable run. Returning to Nashville just ahead of St. Paddy's Day, the Murphys brought along two lesser-known punk acts also celebrating the big 2-0: Tiger Army and Darkbuster. We caught the rowdy, fun outing at Marathon Music Works, and recounted the whole thing, along with some great photos, for you below!
Arriving a little late to the party, I, unfortunately, didn't manage to see Darkbuster. A band I wasn't really familiar with before previewing this show, their career trajectory started out something like the Murphys, springing from the Boston punk scene and adopting '90s Oi! and pop punk elements while appealing the working class, DIY punk scene. However, a revolving door of players and earlier, less-serious subject matter seemed to keep Darkbuster from becoming a mainstream act, and they've only played intermittently in more recent years, reconvening for a new album in 2015, and touring with a tweaked lineup to celebrate what would be their 20th. Though the night was still relatively early, the sold out show was utterly packed ahead of the evening's second act, Tiger Army. Grabbing a spot not far from the huge, Irish-themed merch display, I was brimming with excitement at seeing the psychobilly trio for the first time in at least a decade.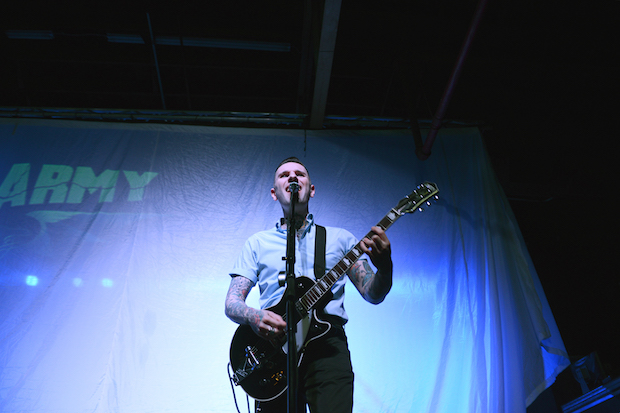 Tiger Army. Photo by Mary-Beth Blankenship.
I first got turned on to Tiger Army early in their career, and early in my teenage love affair for punk, making a point to see them at Warped Tour back in '03 or '04. Though certainly a more niche act than Dropkick Murphys, their run has been just as long, and, despite a noticeable slowdown in recent years, their 20th anniversary is no less monumental. Doing my homework before the show, I learned that the group hadn't released an LP since their 2007 fourth effort Music from Regions Beyond, but were prepping a long-awaited followup for this year; couldn't have timed revisiting this old fave at a better moment. Led by enigmatic frontman and only constant Nick 13, and anchored by long-time drummer James Meza, the band are now on at least their fourth upright bassist, the apt Djordje Stijepovic. Performing with a palpable excitement, renewed energy, and sincere focus, the trio sounded as polished and competent as ever, barreling through a short and sweet set, pulling cuts from all four albums, especially Regions. Excitingly, the band also took the opportunity to unveil two new tunes, "Prisoner of the Night" and "Firefall," which both left me sincerely curious and impatient for the new album. In all honesty, Tiger Army are a band I hadn't revisited in a long while before this show, but I'm glad I got a little slice of nostalgia in; their mix of punk and rockabilly is not something you hear often these days, and their long-haul commitment to their art is admirable.
Dropkick Murphys. Photo by Mary-Beth Blankenship.
After a quick changeover, revealing a stage chock-full of instruments, a huge backdrop, and a giant video screen, the crowd began to swell with excitement, the room nearly as packed as I've ever seen it. Before the Dropkick Murphys took the stage, they screened a short, surprisingly comprehensive documentary, chronicling the 20-year journey from their earliest days, lineup changes, first taste of punk success, mainstream breakthrough, controversies, victories, and their ongoing and inextricable ties to their hometown of Boston. If the fans weren't feeling the nostalgia and celebration before, that surely did the trick.
Opening up with an explosive rendition of "Johnny, I Hardly Knew Ya," the Murphys erupted into a stacked, sweeping set, equal parts fan-geared and band-curated to reflect their mighty run. Admittedly, I've always been a casual and not hardcore fan of the band (like Tiger Army, my first Dropkick experiences were in my teens on Warped Tour), and getting to see them dust off some deep cuts and songs less played was a fun change of pace. At this point, what they do is so automatic, so earnest, and so predictably awesome, it's hard to "review" a Dropkick Murphys shows unless something out of the ordinary happens, and this was business as usual; a fantastic, punk-fueled, raucous set. Getting into the anniversary spirit, the band peppered the set with stories and anecdotes, which served especially intimate and insightful as they proclaimed The Clash to be one of the reasons they started playing music in the first place, before launching into a spot-on cover of "Career Opportunities."
Smart, no frills punk with a positive agenda and working class attitude, the Dropkick Murphys connect with a crowd you don't see as often at the more "hip" and contemporary Nashville punk shows, and that was certainly a breath of fresh air, enjoying the evening alongside an audience with a lack of pretension, there just to have a good time. Towards the end of the set, the band slowed things down with a trio of acoustic re-workings of some of their popular tunes, including "Going Out in Style" and "The Gang's All Here," which was a fun way to hear how their brand of punk, and especially its Celtic backbone, can endure in any form. Predictably, the set ended with mega-hit "I'm Shipping Up to Boston," eliciting the wildest, most enthusiastic singalong I've seen at Marathon in a long, long time, before the band returned to the stage for an extended encore. Though the Murphys made it to Nashville two weeks ahead of St. Paddy's, given the drunken, rowdy spirit, sea of green, and unabashed revelry, you'd have never known that it wasn't yet the 17th. They'll surely be back another spring soon, but getting to see them celebrate such a career milestone was an extra special outing, and I feel fortunate to have taken part.
_
Setlist:
Johnny, I Hardly Knew Ya
Out of Our Heads
Walk Away
You'll Never Walk Alone (Rodgers & Hammerstein cover)
(F)lannigan's Ball
The Ghosts of Rock & Roll
Career Opportunities (The Clash cover)
The Burden
Sunshine Highway
Burn
Forever
21 Guitar Salute (The Press cover)
Curse of a Fallen Soul
Shattered
Going Out in Style (Acoustic)
The Gang's All Here (Acoustic)
Sandlot (Acoustic)
The Boys Are Back
The State of Massachusetts
Rose Tattoo
I'm Shipping Up to Boston
Worker's Song
Kiss Me, I'm Shitfaced
Skinhead on the MBTA
Having a Party (Sam Cooke cover)
_