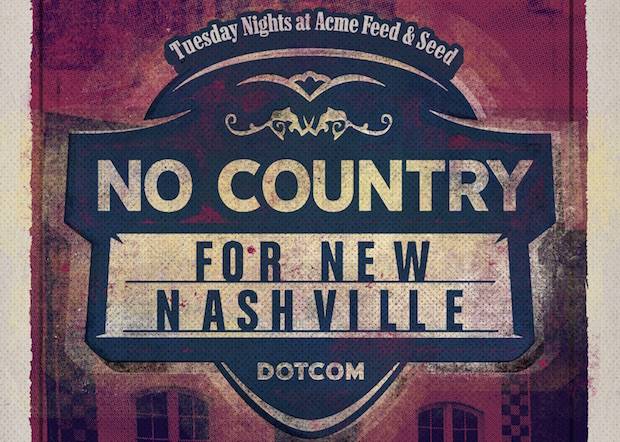 No Country Tuesday night at Acme Feed & Seed is still going strong, albeit twice a month instead of every week. Also new this year, the performances will be broadcast live on Acme Radio, in case you can't make it downtown on time. Our first  March showcase, Tuesday, March 1 will feature grunge inspired power trio Anchor Thieves, the newly formed rock band Warm Ryders, and bluesman Tennessee Jet. As always, we're bringing you all this music for FREE, starting at  7 p.m., as we return to our spring/summer schedule. For more info on the bands, please read on, and we look forward to seeing you all again on Tuesday.
ANCHOR THIEVES
Local indie alt-rock three piece Anchor Thieves have been on our radar since their 2012 inception. We were even lucky enough to premiere their latest music video last month, but now we couldn't be happier to host them at Acme. Their recently released self-produced LP, Monolith, is well worth your attention and we have a feeling they'll be bringing the house down in the closer spot of our three band bill. Let them take you for a ride, this coming Tuesday night!
WARM RYDERS
Built from the spare parts pile of other bands, like Diarrhea Planet, Desert Noises and the now defunct Apache Relay, Warm Ryders are new on the scene, but more than capable of holding their own. Considering their recent inception, there isn't a whole lot out there about them yet, but they have told No Country their sound is "akin to Eagles in that (we) incorporate guitar driven Rock 'n Roll with big southern choruses, Tulsa Sound-inspired movement, and pro lyricism". Sounds pretty damn tasty to us, but you can judge for yourself when you seem them live.
TENNESSEE JET
One-man-blues-band troubadour Tennessee Jet has been like a run away fright train lately, rummblin' down the tracks at top speed, crisscross his way across the south touring in support of his music. A local performer we've been keeping tabs on for a while, Jet (birth name TJ McFarland) is really a sight to behold, on par with similar national touring artists like Shakey Graves. Get to the gig on time and witness for yourself, when he kicks things off on Broadway.
Anchor Thieves, Warm Ryders, and Tennessee Jet will perform Tuesday, March 1 at Acme Feed & Seed. The show is 21+, music begins at 7 p.m., and, per usual, it's totally FREE! Downtown PARKING can sometimes be an issue. However, if you're willing to walk a few blocks, street parking is typically easy to find on the numbered avenues south of Broadway or along Korean Veterans Blvd, and metered spaces are typically free after 6 p.m.