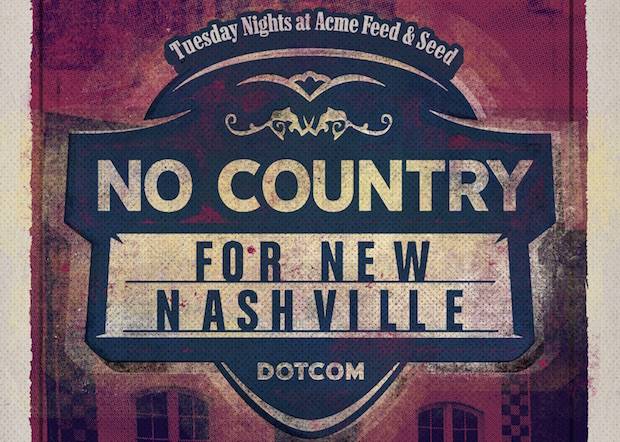 Along with the exciting launch of Acme Radio, we're back for a new year of Tuesday night Acme Feed & Seed showcases! If you've been with us for awhile, you'll likely remember that our weekly, curated event began when Acme first opened in the summer of 2014, and we've rarely missed a Tuesday since, hosting everything from rock to soul to funk to hip hop from Music City and beyond. New years mean new beginnings and going into 2016, we're going to be scaling back at Acme, bringing your roughly two showcases a month instead of one a week. As Acme grows and so do we, this provides us more time and energy to bring you the best event we possibility can. We'll still keep you up to speed with previews and coverage, so be sure to follow the site for the latest news on our live events.
After two wonderful weeks back, our next event, on Tuesday, Feb. 16, will feature a poppy, all-local bill of indie pop duo Poema, soulful songstress Whissell, and buzzworthy budding artist Natalie Royal. As we always do, we're bringing you all this music for FREE, starting at our earlier winter time of 6 p.m. For more info on the bands, please read on, and we look forward to seeing you all again on Tuesday.  
POEMA
Hailing originally from Albuquerque, New Mexico, but based in Nashville since 2013, indie pop duo Poema is comprised of sisters Elle and Shealeen Puckett. The group's latest EP, Pretty Speeches, debuted last summer, and marks not only their best effort to date, but was also one of our favorite releases, local or otherwise, of 2015. With personal, earnest lyricism, ambient, relaxed, and tasteful instrumentation, and a road-worn live show (most recently, they served as backing players on tour with Eisley), Poema are a hidden gem in the Nashville musical landscape, and should absolutely be a permanent fixture on your playlist list if you like good vibes and chilled out indie rock.
WHISSELL
A relative newcomer to the local scene, eclectic pop songstress Whissell is fast becoming an artist to watch, building buzz and turning heads with her immense talent. Pulling elements from blues, pop, rock, and beyond, Whissell, who, after moving to Nashville, initially just sang songs in her shower and wrote alone, found her manager by chance, when his then-girlfriend (now wife) moved in after responding to a Craigslist ad. Since the release of her debut single "Get Free" last year, and more recent sultry followup "Mine," Whissell has found numerous TV placements and overwhelmingly positive response from both new fans and the press. We're excited to see her personal, lovely style and impressive pipes in person, and you should be too!
NATALIE ROYAL
Gearing up to release a her new album, Harbinger, on March 11, produced by Ryan McFadden (Torres) and recorded at The Bomb Shelter (Alabama Shakes, Hurray For The Riff Raff) in East Nashville, budding indie pop songstress Natalie Royal, self-described as "gut folk," falls somewhere in between Poema and Whissell on the musical spectrum. Her last few years have brought immense loss and love, and have taken her on a journey that culminated in a beautiful, personal batch of songs; though certainly not her first, representative of a new chapter and focus in her musical being. A new and exciting addition to Nashville's rich pop scene, Natalie seems especially poised to connect with a broader audience in no time. Come out early and see her and the beginning of an exciting journey.
Poema, Whissell, and Natalie Royal perform Tuesday, Feb. 16, at Acme Feed & Seed. The show is 21+, music begins at 6 p.m., and, per usual, it's totally FREE! Downtown PARKING can sometimes be an issue. However, if you're willing to walk a few blocks, street parking is typically easy to find on the numbered avenues south of Broadway or along Korean Veterans Blvd, and metered spaces are typically free after 6 p.m.