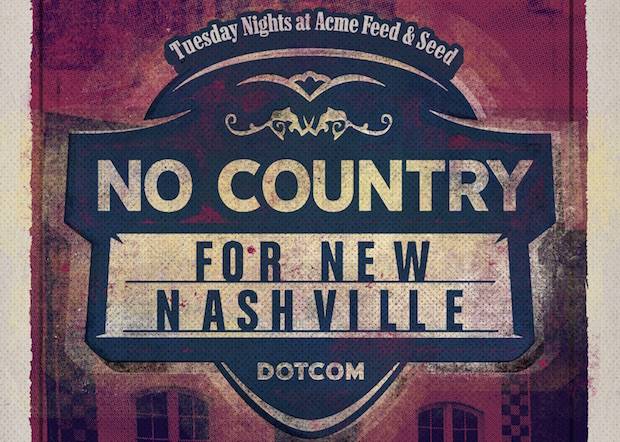 We're back for a new year of Tuesday night Acme Feed & Seed showcases, and if you've been with us for awhile, you'll likely remember that our weekly, curated event began when Acme first opened in the summer of 2014. We've rarely missed a Tuesday since, hosting, rock, soul, funk and hip hop from Music City and beyond. New years mean new beginnings and we have one bittersweet announcement to share: going into 2016, we're going to be scaling back at Acme, bringing your roughly two showcases a month instead of one a week. As Acme grows (have y'all checked out Acme Radio yet?) and so do we, this provides us more time and energy to bring you the best event we possibly can. We'll still keep you up to speed with previews and coverage, so be sure to follow the site for the latest news on our live events.
Our second Acme showcase of 2016 will be Tuesday, Feb. 2, and features psych rockers Liz Cooper & the Stampede, local legend Tim Easton, and roots-music inspired duo Aberdeen Green. As always, we're bringing you all this music for FREE, starting at our earlier winter time of 6 p.m. For more info on the bands, please read on, and we look forward to seeing you all again on Tuesday.  
LIZ COOPER & THE STAMPEDE
Laced with a wonderful wanderlust, Liz Cooper and her backing band The Stampede, is folk leaning psychedelic rock at its best. Known for their jammy live shows, with '60s/'70s throwback vibes, it's no wonder they list the Grateful Dead as an influence on their Facebook Page. Liz personifies this freewheeling spirit, leaving behind family, friends and a collegiate golf scholarship to pursue music in Nashville. About four years later, she's got a kickass EP, Monsters, and a growing local following. Come jam with us at Acme, and watch Ms. Cooper and her gang close down the night of free music.
TIM EASTON
A fixture in local singer songwriter circles of almost all genres, Tim Easton is just the kind of guitar picking nonconformist we love having as a neighbor. We told you about an intense project he finished recently, playing 100 original songs in 100 days (with a video for each), but best of all, his DEEP catalog of alternative folk and blues, frosted with Americana symbolism makes for some super tasty listening. Decide for yourself next Tuesday.
ABERDEEN GREEN
A duo hailing from the Shenandoah Valley, Aberdeen Green actually formed in Nashville. Despite attending the same summer camp growing up, and even taking vocal lessons from the same coach, it took a chance encounter in Music City to make beautiful pop-folk lightning strike for Amanda and Carley. Opening for acts like Maria Carey, Train, Janelle Monae, Renee Fleming, The Avett Brothers, and even Aretha Franklin, it's safe to say these girls know what they're doing. Get to Acme on time so you can see them do their thing live.
Liz Cooper & the Stampede, Tim Easton, and Aberdeen Green will perform Tuesday, Feb. 2, at Acme Feed & Seed. The show is 21+, music begins at 6 p.m., and, per usual, it's totally FREE! Downtown PARKING can sometimes be an issue. However, if you're willing to walk a few blocks, street parking is typically easy to find on the numbered avenues south of Broadway or along Korean Veterans Blvd, and metered spaces are typically free after 6 p.m.