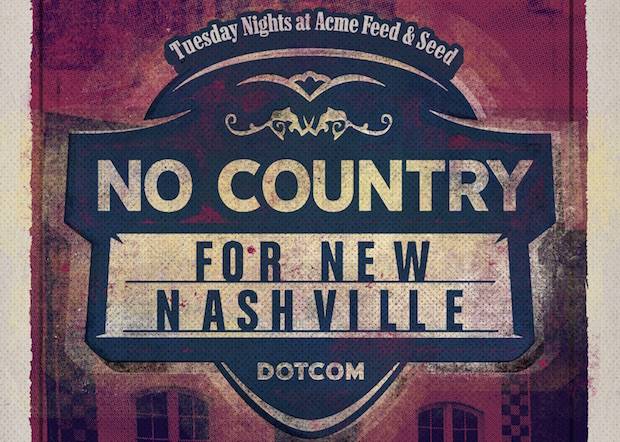 Looking to close out 2015 on a strong note for our No Country Presents Tuesday night at Acme Feed & Seed, we are packing out our last bill of the year with a blues influenced lineup. Tuesday, Dec. 15 features outlaw bluesman Jack Berry, a split set with local standouts Luella & Tim Carroll, plus bluesy rocker Jas Patrick. As we do every week, we're bringing you all this music for FREE, and note that we are getting started at 6 p.m. as we revert to our winter hours. Get there early for some Southern cookin', and to cash in on a full night of live music. For more info on the bands, please read on, and we look forward to seeing you all again on Tuesday.
JACK BERRY
Rambling all around the U.S., but originally hailing from Reno, NV, Jack Berry exudes a western swagger emboldened by his hard-edged guitar, and a crooning vocal style steeped in old-timey blues flavored awesomeness, akin to early Black Keys records. After getting his start gigging around LA with his backing band Loaded Loot, Jack has been calling Nashville home for a while now, and has recruited a new, rotating line-up of musicians to back him in the studio and on tour. He's putting the finishing touches on his latest record, Mean Machine, which is set for an April 2016 release, but you don't have to wait that long to get a taste. His live shows combine the soulfulness of church hymns with the high powered frenetic energy of a booze-induced bar brawl, so be there Tuesday night for Jack's blues sermon, as the outlaw troubadour takes all in attendance to church.
LUELLA 
Another wonderful local talent saturated in neo-blues sounds, Luella has produced tons of music with many different outfits, including Luella and the Sun, Crackerboots, as well as her solo work. For her Tuesday night performance, she will be sharing a set with musical partner, Tim Carroll, who were performing around town for a while as Luella and some Fella, but now are focusing on their own solo careers. For our showcase, the two will team up to play a few of Luella's songs and a few of Tim's, in an effort to bring you the most kick ass tunage as possible in the middle time slot.
TIM CARROLL
A bit of a local legend in his various East Nashville haunts, Tim Carroll is known for his fiery stage presence and Chuck Berry inspired guitar playing. Throw in some punk influenced song writing, puréed in the Music City alt-country, Americana-blues blender.  A Nashville resident since 1993, Tim has had songs recorded by John Prine, Asleep At The Wheel, BR-549, Robbie Fulks, Kasey Chambers, Bobby Bare Jr., Sunny Sweeney, Sonny Burgess, amongst many others. If you haven't caught him at The 5 Spot yet (where he curates his own showcase), you can see the legend doing his thing live this Tuesday.
JAS PATRICK
Local multi-instrumentalist and singer songwriter Jas Patrick released his new EP, Inky Ovine, back in September, and we even premiered the single, "Little Bug," from that release. After further review, we can assure you the EP is worth several listens. Dabbling with multiple genres, Jas always seems to find his way back to an Americana/Blues Rock base that will forever ring true. Check him out below, and be sure to get to Acme early, so you can see him live.
Jack Berry, Luella, Tim Carroll, and Jas Patrick perform Tuesday, Dec. 15, at Acme Feed & Seed. The show is 21+, music begins around 6 p.m., and, per usual, it's totally FREE! Downtown PARKING can sometimes be an issue. However, if you're willing to walk a few blocks, street parking is typically easy to find on the numbered avenues south of Broadway or along Korean Veterans Blvd, and metered spaces are often free by 6 p.m.