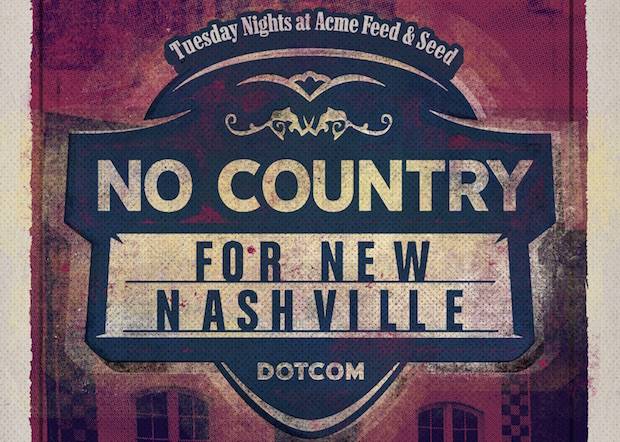 After taking a week off for turkey, holiday travels and such, No Country Presents weekly showcase at Acme Feed & Seed is back and ready to close out 2015 on a high note! This coming Tuesday, Dec. 1 features outer space pop rockers Earl Burrows, alternative power popsters Reality Something, and new-band-on-the-block The One & Lonelies. As we do every week, we're bringing you all this music for FREE, and note that we are getting started at 7 p.m as we revert to our winter hours. Get there early for some Southern cookin', and to cash in on a full night of live music. For more info on the bands, please read on, and we look forward to seeing you all again on Tuesday. 
EARL BURROWS
Formed originally by frontman Mark Watrous and his brother Joel around 2013, Earl Burrows plays ragged, jarring 70's style glam pop-rock that is tougher than David Bowie and much more intelligent than Alice Cooper. Thinking man's music, created and performed by deep thinkers. We thought enough of their debut record, No Love for the Drowning, which dropped earlier this fall, that we jumped at the opportunity to get them in our weekly Acme showcase. Have a listen below, and watch them do their thing live and in person next week.
REALITY SOMETHING
A power trio throw-back, Reality Something remind us of everything we liked about first wave '90s era alternative rock. Frontwoman and rhythm guitar player Elena Franklin's voice reminds us of a more polished version of PJ Harvey, and after jamming their self-titled debut EP, we can't help but be reminded of another like-minded Nashville band, Bully, that is surging in popularity nationally. Who knows, maybe RS is the next local band to cash in, and you can be there at ground zero next week.
THE ONE & LONELIES
Seamlessly combining a powerful, unique lead vocal, with haunting, '60s pop inspired melodies, The One & Lonelies have created a Southern-infused sound that is equally rad at a dive bar venue over whiskey or at a backyard kegger. Other than a few demos, the band is still very much in it's infancy, so we are just as excited as anyone to see what they are all about.
Earl Burrows, Reality Something, plus The One & Lonelies perform Tuesday, Dec. 1, at Acme Feed & Seed. The show is 21+, music begins around 7 p.m., and, per usual, it's totally FREE! Downtown PARKING can sometimes be an issue. However, if you're willing to walk a few blocks, street parking is typically easy to find on the numbered avenues south of Broadway or along Korean Veterans Blvd, and metered spaces are often free after 6 p.m.