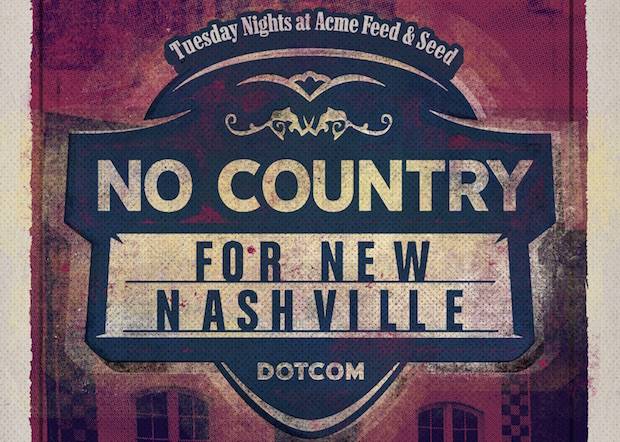 By now we hope you've heard, our live events production wing, No Country Presents, has taken up residence at Lower Broadway's hippest new restaurant, lounge, retail, and event space, Acme Feed & Seed, where we've been bringing you a weekly, FREE, Tuesday night showcase, featuring some of our favorite emerging local and national talent for over a year! The curated showcase runs from 7:30 to 10:30 p.m. each week, and has featured everything from folk to funk to rock to indie. For our next installment, on Tuesday, Nov. 17, featuring two fantastic locals and a great touring act, we're bringing you buzzworthy newcomers Dead Cures, longtime site favorite Gardening, Not Architecture, and LA-based folktronica outfit yOya. Keep reading to find out all about them, and cancel any other plans you might have Tuesday night, because you're coming to hang with us. Got it?
DEAD CURES
Fronted by Sharon Koltick, formerly of Kink Ador, Dead Cures are a brand new local alt pop trio that you should absolutely be keeping an eye on. We recently premiered the group's debut single, "Say Everything Now," and are proud to present their Lower Broadway debut, heading up our latest showcase. Rounded out by guitarist Michael Kisak and drummer Evan Buchanan, the band take an incredibly collaborative approach to songwriting, with fun as their primary mission, adopting a sound that pulls elements from '90s alt and modern indie with unabashed pop undertones. Come see what this promising new act are all about in person!
GARDENING, NOT ARCHITECTURE
The musical vehicle of prolific artist Sarah Saturday, Gardening, Not Architecture's roots actually trace back more than a decade, then just a series of demos. The project got its name in 2007, and wouldn't be showcased live until two years later, at which point Saturday took G,NA across North America multiple times as a solo act. Now based in Nashville and filled out with a live backing band, the group's charming, personal flavor of indie pop was most recently given an immersive new element when Saturday collaborated with a trio of local filmmakers to create a three-part short film to coincide with the release of her latest LP, Fossils.
YOYA
Los Angeles trio yOya adopt an electronic-infused approach to folk, made popular in recent years, layering earnest, introspective songs with drum machines and keyboards. Their hypnotic ear for crafting heartfelt, catchy compositions and meticulous attention to detail have made them a favorite go-to act in supporting some high-profile performers, and we couldn't be more excited to bring them to Acme. Show up early and show them some love!
Dead Cures, Gardening Not Architecture, and yOya will perform Tuesday, Nov. 17 at Acme Feed & Seed. The show is 21+, music begins at 7:30 p.m., and, per usual, it's totally FREE. Downtown PARKING can sometimes be an issue. However, if you're willing to walk a few blocks, street parking is typically easy to find on the numbered avenues south of Broadway, or along Korean Veterans Blvd. Metered spaces are often free after 6 p.m.