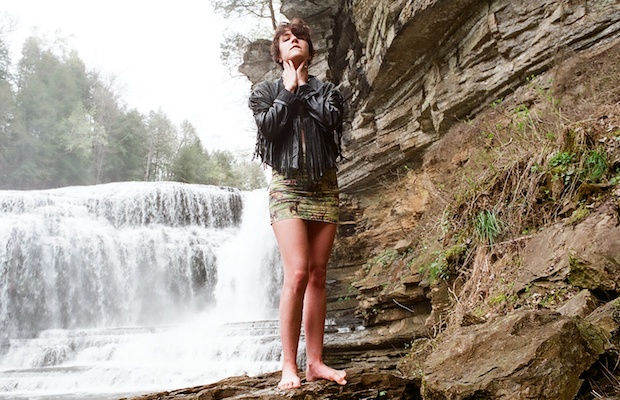 By Jen Starsinic
Mid-month again! Oh how time flies! Alrighty kids, that means that tonight, Nov. 12 is time once again for the Nashville residency of Communion to ride into The High Watt with five stellar acts that will rock your world. This time around, we have Tristen, The Saint Johns, Brave Baby, Dogs of OZ, and Austin Manuel. The show starts at 8 p.m., is 18+, and tickets are just $10. Read on below for info about all the acts!
TRISTEN
Returning from time on the road performing as part of Jenny Lewis's backing band, Tristen's music could perhaps be described as folk-pop, but that description still seems lacking. It is ultimately a spirit of defiant commitment to artistry that defines Tristen's music. She's been a darling of Nashville since moving here in 2007, waiting tables, touring and hustling like a madwoman and releasing 2011's critically acclaimed debut album Charlatans at the Garden Gate. Two years ago (wow, time flies!) she unleashed her unbelievable second album CAVES on her own PUPsnake records via Thirty Tigers. The record is thoroughly Tristen in that it hits an insanely sweet and savory spot in which it is weird, delightful and catchy as all hell. Sonically, however, it is much different than her previous work, mixing electronic and live drums, synths and string arrangements. She explains, "I wanted to challenge the acoustic reverence of the Americana music world and I wanted to piss off the old folkies. Is there something wrong with that?" On the contrary, there's something extremely right with it. Come see Tristen tonight for her only local show of 2015 and we know you'll agree.
THE SAINT JOHNS
The Saint Johns are local Americana duo Louis Johnson and Jordan Meredith. You may remember them from our recent exclusive tour diary series, available here, here, and here. In addition to apparently knowing great breakfast spots, they also write catchy pop melodies and sing in beautiful harmony. Spending the last few years on the road with acts such as Delta Rae, The Lone Bellow, Drew Holcomb, and Stephen Kellogg has given the duo plenty of inspiration to write for a forthcoming LP to follow up their debut EP Open Water.
BRAVE BABY
Brave Baby have the best band name of anyone playing at Communion tonight. Other facts about them include that they are from Charleston, SC, they released their self-produced debut album Forty Bells in 2013 on Charleston indie label Hearts and Plugs, and we imagine they also know lots of good breakfast restaurants. Brave Baby's catchy and cool melodies and interesting grooviness help them stand out and above their indie rock peers while also maintaining the five-friends-in-a-garage sort of spirit that made indie rock cool in the first place. Check out the video below and check them out tonight!
DOGS OF OZ
Local punk trio Dogs of OZ are an extremely close runner up for the best band name of the night prize (the committee had a really tough decision to make). Their new album ALL SHOOK UP was released Oct. 3 on CD via Pizza Tape Records and on cassette as an official Cassette Store Day release on Oct. 17. Check out a new single below!
AUSTIN MANUEL
Austin Manuel is a longtime site favorite, and a talented local singer-songwriter. He just released an EP entitled Love That'll Last Forever, from which we premiered "Sue in Blue" (listen below). Manuel is closing out the year on tour with Kopecky and Escondido, so some see him before he leaves town.
Tristen, The Saint Johns, Brave Baby, Dogs of OZ, and Austin Manuel will perform at Communion tonight, Nov. 12 at The High Watt. The show is 18+, begins at 8 p.m. (doors at 7 p.m.), and tickets are available for $10.