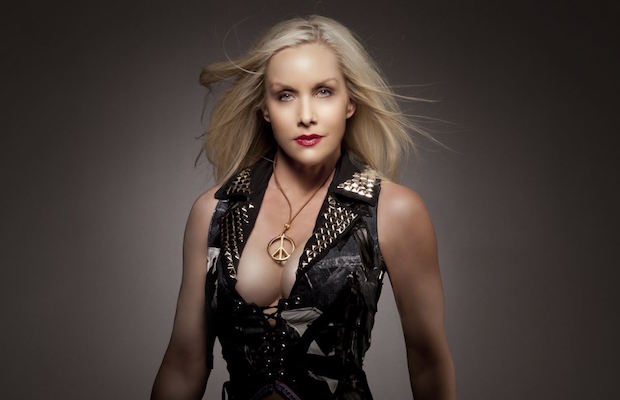 Third Man Records' biggest party of the year, Devil's Night, just keeps getting better and better! The annual soiree, which takes places tonight, Oct. 30, is always full of surprises, and this year boasts a big one: Cherie Currie, best known for fronting seminal rock band The Runaways, will serve as the evening's special host, presiding over a night which boasts four performances, three record releases, DJs, a costume contest, a cookout, and so much more! One big caveat though: this thing is totally sold out, so we're aiming to fill in those of you snagged tickets, not taunt the unlucky souls who didn't.
As we already announced, three bands, VIDEO, Timmy's Organism, and Wolf Eyes are all releasing new LPs, which, of course, will be available to purchase in a variety of bundles. They're all a bit outside of the realm of your typical Third Man artist, which makes this night all the more fun and interesting. Locals Essential Tremors are also tapped to perform, and will kick off the night following a cookout on the patio, where you can snag a snack, drink, or even some free s'mores. There will also be a photo booth, a costume contest (which some pretty sweet prizes, given out at the very end of the night), DJ sets between bands, and special Devil's Night-exclusive merch on sale.
You will only be allowed entry if you're wearing a costume, so come dressed to party (and don't forget the photo ID), and Third Man encourages you to find street parking or use the Mission lot across the road. Finally, the man himself, Jack White, might just be present and in costume (as he was last year), so if you happen to spot him, just be cool (like we know everyone who reads this site will).
Peep the schedule below, get the full Devil's Night rundown here, and check out tracks from all of the evening's performers (plus Cherie Currie, who, will not confirmed to play, has been touring in support of her first LP in 35 years, so we can dream). See you there!
7:00-8:30pm: Doors, Grill Out (Hot Dogs, Veggie Dogs, Burgers!), Specialty Devil's Night Cocktails, Free S'mores from Bang Candy, Photo Op with Third Man photographer Angelina Castillo
8:30-9:00pm: Host Introduction
8:30-9:00pm: Essential Tremors
9:00-9:15pm: DJ/Changeover
9:15-9:55pm: VIDEO
9:55-10:15pm: DJ/Changeover
10:15-10:55pm: Timmy's Organism
10:55-11:10pm: DJ/Changeover
11:10-12:00am: Wolf Eyes
12:00-12:15pm: Host Farewell / Costume Contest Winners

Cherie Currie
Essential Tremors
VIDEO
Timmy's Organism
Wolf Eyes